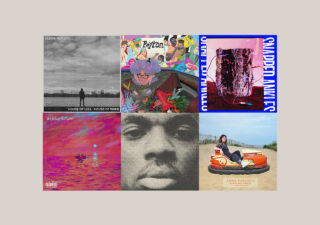 Here are the best albums released in July
From chart-busting UK rap to doom-mongering noise via a dodgems-themed masterpiece
Put away your well-meaning sweatbands, ghost a personal trainer and cancel your order BMX Bikes For Beginners. The Olympics are all well and good, but this is the only medal table that matters. The eight best albums from July are all gold, from the fastest selling hip-hop/rap record in a decade to an electronic piece composed entirely for dodgems.
Artist: Snapped Ankles
Album: Forest Of Your Problems
Label: Leaf
What is it? Primal, motorik post-punk from the curious East London dropouts seeking to uncover the many factions of the forest.
L&Q says: "A heavy influence of late-'70s post-punk colours the band's signature kraut-shaded tribalism, a Goat-meet-The-Fall soundworld that perfectly captures the psychotic, eerie vision of the Anthropocene."
Read Guia Cortassa's full review here.
Artist: Vince Staples
Album: Vince Staples
Label: Blacksmith / Motown / EMI
What is it? Vince Staples' most personal work to date, from Odd Future affiliate to West Coast spokesman, worthy of the self-titled tag.
L&Q says: "The instrumental palette ensures a sense of cohesiveness uncharacteristic of Staples – woozy synths weaving their way through these ten tracks, with the beats routinely unhurried – but lyrically, Staples is less obtuse than usual whilst revisiting familiar ground."
Read Joe Goggins' full review here.
Artist: Anna Meredith
Album: Bumps Per Minute (18 Studies For Dodgems)
Label: Moshi Moshi
What is it? A musical identity for the 18-dodgem installation at Somerset House, written and rewritten as the cars bump into each other, triggering new sounds and novel possibilities.
L&Q says: "The experience is an adrenaline burst, each aspect of the music functioning together to provide a high-octane antidote to the previous year's dirge of lockdowns and restrictions. It's a total sensory hit."
Read Lila Tristram's full review here.
Artist: Alexis Marshall
Album: House of Lull. House of When
Label: Sargent House
What is it? The debut solo album from the frontman of heavy eccentrics Daughters, delivering on all expectations, firing on all cylinders.
L&Q says: "Marshall's declarative, strained vocal is the record's guiding light, and benefits from these comparatively roomy arrangements, away from the thunderous squall of his bandmates."
Read Luke Cartledge's full review here.
Artist: Dave
Album: We're All Alone In This Together
Label: Neighbourhood
What is it? A confessional follow-up to the South London rapper's Mercury Prize-winning debut, with an enduring concern for social issues at its heart.
L&Q says: "This album secures his status as the voice of a generation of young Londoners, putting the personal into the political and making sense of the current social chaos with his signature wit."
Read Katie Beswick's full review here.
Artist: Peyton
Album: PSA
Label: Stones Throw
What is it? A summer-ready debut of easy-going soul, R&B and hip-hop which pays homage to its creator's Texan roots.
L&Q says: "Throughout and at its conclusion, PSA radiates self-assuredness, and it's really refreshing."
Read Rosie Ramsden's full review here.
Artist: Darkside
Album: Spiral
Label: Matador
What is it? The long-awaited follow-up to Nicolás Jaar and Dave Harrington's relaxed but groundbreaking 2013 debut, rewriting the expectations of a jam band.
L&Q says: "Darkside perform the high-wire act of making everything feel spontaneous and meticulously planned at the same time."
Read Skye Butchard's full review here.
Artist: Maja Lena
Album: The Keeper
Label: Chiverin
What is it? The debut solo work of Marianne Lena from alt-folk four-piece Low Chimes, echoing Joanna Newsom and… Joanna Newsom.
L&Q says: "When the Newsomisms subside, as they frequently do, what emerges is a rather wonderful and unexpectedly strange collection of pastoral folk songs full of idiosyncratic flourishes, brooding atmosphere and gorgeously warm, dusky arrangements."
Read Sam Walton's full review here.
Please support Loud And Quiet if you can
If you're a fan of what we do, please consider subscribing to L&Q to help fund our support of new musicians and independent labels
You can make a big difference for a few pounds per month, and in return we'll send you our magazines, exclusive flexi discs, and other subscriber bonus bits and pieces
Try for a month and cancel anytime