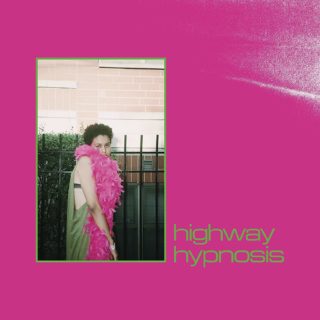 Sneaks
Highway Hypnosis
(Merge)
6/10
"Remove your beliefs and start again." It's both a mantra and a method for approaching Eva Moolchan aka Sneaks' latest collection of 2-minute curios. At 21, she's already three albums in but, collectively, they amount to less than 60 minutes listening. Debut album 'Gymnastics' clocked in at just 14 minutes with the follow-up, 'It's a Myth', a lean 18. Here, 'Highway Hypnosis' manages a comparatively marathon 26. Run times aren't typically interesting but set against Sneaks' stark approach to her post-punk sound, it's a difference that would account for roughly half of an extra album.
You can't say, then, that Moolchan isn't pushing herself, and just as she shifted between those preceding albums, she's done so again in terms of both style and length this time out. Where 'Gymnastics' was all punky adolescence, fish-eye videos, ragged basslines and BMX skate tricks – and the transition to 'It's a Myth' was rooted in adding a little more polish – refinement continues to be a theme.
As a result, there's even less of the Moldy Peaches delivery; less of the chunky, lo-fi basslines; less of the minimalist pitter patter of the drum machine pre-sets that helped characterise those previous albums. Instead, everything's gone a bit more future and the raw sparsity has been switched to something a little more melodic and oblique.
There's the Karin Dreijer fever dream of 'Highway Hypnosis', the twisted, half-speed sparseness of 'Beliefs', the grungy, mumblecore disaffection of 'And We're Off' while 'The Way it Goes' and 'Hong Kong to Amsterdam' jerk around like M.I.A. playing Jet Set Radio.
There's a lot to unpack in a 26-minute album that jams in 13-tracks, and Moolchan would probably be the first to admit that she doesn't always get it right. 'Saiditoneza' and 'Holy Cow Never Saw a Girl Like Her' make sense in the curious context of the album but also feel like ideas barely realised – casualties of the creative brevity that makes Sneaks interesting.
And this is where we get to the paradox of Sneaks' appeal – less is more. If you cherry-picked the energy, fuzzing basslines and post-punk spirit from her three albums to date, you'd have something bordering unmissable. But for a sound as transient as hers, that idea of idealistic curation would also deny you the most compelling part of listening to Sneaks' music: trying to work out whether you love it or hate it.
Please support Loud And Quiet if you can
If you're a fan of what we do, please consider subscribing to L&Q to help fund our support of new musicians and independent labels
You can make a big difference for a few pounds per month, and in return we'll send you our magazines, exclusive flexi discs, and other subscriber bonus bits and pieces
Try for a month and cancel anytime