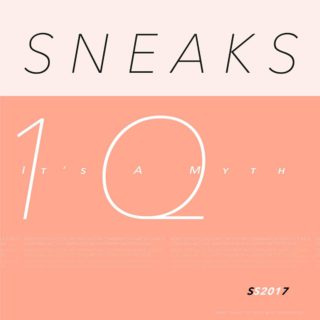 Sneaks
It's A Myth
(Merge)
7/10
In a world where mainstream pop records seem to be getting longer and more unwieldy by the month, there's certainly room for albums as taut and to-the-point as the second offering from Washington D.C. native Eva Moolchan under her Sneaks moniker.
'It's a Myth' runs at just eighteen minutes and is a fascinating proposition; Moolchan has emerged not from some gentrified corner of Brooklyn, as you might expect given her minimalist pop aesthetic, but from her hometown's iconic punk scene. Look hard enough and the clues are there; her matter-of-fact vocal delivery borders on the spoken-word and carries a constant strain of passive aggression, whilst it's the unremitting depth of the album's basslines that provide the instrumental backbone.
The result is a record that carries a sense of purpose and urgency so often lacking in stripped-back synthpop efforts like this one, and at its very best – take the off-kilter 'With a Cherry on Top', for instance, or the burbling 'Not My Combination' – there's an innate conflict between the laid-back nature of the music on a superficial level and the obvious stylistic tension simmering away beneath.
Crucially, the stingy running time leaves you hanging on for LP3 – who knows, we might get a full twenty minutes out of her next time.
Loud And Quiet could do with your help
We love making Loud And Quiet – our magazines, this website, our podcasts and more – but it's become increasingly difficult for us to balance the books.
If you're a reader who'd like to help us keep the show on the road, please consider becoming a Loud And Quiet member. There are options to receive our physical magazines and lots of other extras that are exclusive to our supporters.