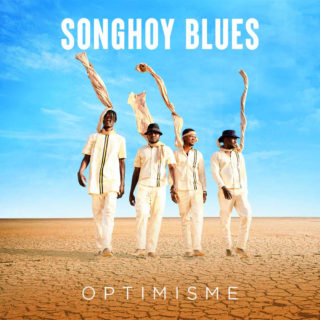 Songhoy Blues
Optimisme
7/10
If Optimisme is about anything, then it's about freedom. It's been eight years since the members of Songhoy Blues were forced to flee their homes in northern Mali, forced out by a murderous Jihadist regime that banned music. Since then, the band have made it their mission to spread a philosophy of freedom, making protest music that you can dance to – a joyous, booty-shaking fuck you to oppressors everywhere.
On their latest record, the band nail their colours to the mast straight away. 'Badala', the album's opening track and first single, is the story of na unarmed Malian woman fighting back against the patriarchy. Propelled by a riff Tom Morello would be proud of, the song (whose title roughly translated into English as "I don't give a shit") is both a taster for a record and one of the most in-your-face calls for justice you're going to hear in 2020.
Mirroring this no-nonsense approach, Songhoy Blues have mostly returned to the stripped-back production of their 2015 debut Music in Exile. By keeping the sound refreshingly straight-forward, the emphasis has been thrown on the band's knack for hitting the riffs and finding a groove. All this means is that we get a record that punches as hard as an early AC/DC album, but is still as danceable as a Rick James cut.
It's a recipe that turns Optimisme into a pissed-off record that somehow still celebrates the sheer joy of just being alive. And, let's be honest, we can all do with something like that right now.
Free Protomartyr flexi disc with this month's magazine
Subscribers to Loud And Quiet now receive a limited edition flexi disc of a rare track with their copy of the magazine
This month's disc is from Detroit punk band Protomartyr