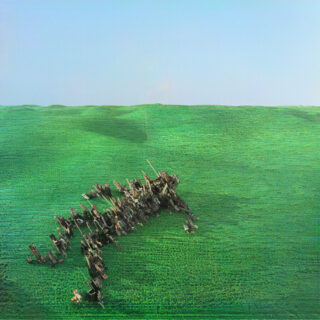 Squid
Bright Green Field
(Warp)
9/10
What with all the pastoral splendour that you'd be forgiven for associating with a title like Bright Green Field, a towering monolith of pharmaceutical power shouldn't be the first image that springs to mind upon pressing play. But the widely-anticipated debut album from Squid was never going to be an easy one to predict. Whilst the gleaming panelled structure of the GlaxoSmithKline headquarters was enough to provide a paradoxical springboard for the band to leap from, drummer and lead vocalist Ollie Judge's broader vision of a sinister capitalist and bureaucratic dystopia is in graphic high definition on instant tone setter, 'GSK'.
But by no means is Bright Green Field a concept album, more a multi-perspective narrative all syncing to a reality much too close for comfort. Squid have mutated their trailblazing compound of fast, motorik beats meets spiralling jazz-induced art-punk and repurposed them for wider territories that stay true to Warp's historic constitution for post-genre music. The result allows for an entirely dynamic free flow that manages to satisfy a disparate, yet tightly cohesive tracklist. Even to a point where songs converse independently amongst themselves. The bilateral 'Boy Racers' – a track which sees introverted fast car fantasy trail off into a surge of nightmarish anxiety – picks up from where it left off seven tracks later with menacing new self-assurance on cataclysmic closer, 'Pamphlets'. 
They call upon a mixed bag of uncited guest appearances featuring Emma-Jean Thackray, Black Country, New Road's Lewis Evans and multi-instrumentalist Squid member Arthur Leadbetter's dad tearing it up on a renaissance-era racket. Martha Skye Murphy's scatter of breezy to eventually shrill vocal screams provide Squid with new textual dimensions on the self-absorbed masculinity slamming 'Narrator'. Squid-by-numbers grooves accelerate on 'Paddling', the track's pull made all the more exhilarating with every X-rated suggestion to "Tense the muscle". 
The initial lull of 'Documentary Filmmaker' lays out a creeping false sense of security making up a sort of unofficial sequel track the band's Speedy Wunderground seven-inch release, 'The Dial' as Judge revisits his time in and out of anorexia wards visiting a loved one. When he's not barking his usual vocal snarls, the intermittent crackle of distant broadcast transmissions distort his voice on 'Global Groove' as he continues to relive unresolved flashbacks of his youth. It's a rare moment of fragility for a band hellbent on fulfilling their infinite potential.
Squid were the cover stars of Issue 145 of Loud And Quiet. To order a copy (limited numbers available), click here.
Free Protomartyr flexi disc with this month's magazine
Subscribers to Loud And Quiet now receive a limited edition flexi disc of a rare track with their copy of the magazine
This month's disc is from Detroit punk band Protomartyr