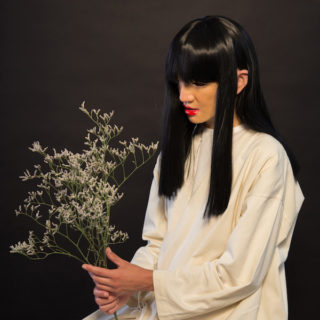 "All I know are things from another life": Sui Zhen's new venture into the sound of human experience leads to the post life. For her latest album, Losing, Linda, the Australian artist ("musician" is way too reductive) created a brand new avatar, after the Susan of her previous LP; a digital creature dealing with human feelings, wandering the path of loss and grief in a digital age.
Losing, Linda teaches us that it has become impossible to separate human and digital, inspired by both Laurie Anderson and posthumanism, and drawing from Inuit throat singing and cyborgs. Listening to the songs this impossible division is even more tangible: laid over beats, Sui Zhen's vocals add a warmth that only a living body allows. This way, electronic tracks are intertwined with bossa nova; piano and brass meet synths and drum machines, perfectly mirroring the everyday experience of a person having to deal with their online presence, a splitting of the self never fully breaking apart, symbolised by having songs like 'Natural Progression' and 'Mountain Song' side by side without the result being confusing or incoherent.
Tracks like 'Being a Woman', with its Lorde-meets-nineties-RnB sound and empowered lyrics, the Yaeji-ish 'Perfect Place', 'Night River Rider', which recalls fellow Australian Alex Cameron, and the jangle guitars of 'Mountain Song' are all facets of a songwriter and performer who embodies her zeitgeist without fear of mixing and matching genres and styles.
Loud And Quiet could do with your help
We love making Loud And Quiet – our magazines, this website, our podcasts and more – but it's become increasingly difficult for us to balance the books.
If you're a reader who'd like to help us keep the show on the road, please consider becoming a Loud And Quiet member. There are options to receive our physical magazines and lots of other extras that are exclusive to our supporters.