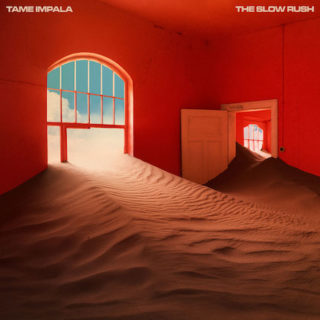 Tame Impala
The Slow Rush
(Fiction)
8/10
For much of the opening track of Tame Impala's fourth album, Kevin Parker seems caught in two minds. "We're on a rollercoaster stuck on its loop-de-loop," he notes on 'One More Year', grappling with whether he considers this a good thing or not. Half a decade has passed since his last album, and the success of Currents weighs on the Australian's mind. His project has morphed many times previously, from its bluesy debut EP in 2008 to the modern psychedelia of Lonerism, through to the slick electronica of late. Now, Parker wants The Slow Rush to show the same levels of ambition but can't help question his own ability to pull it off.
'Instant Destiny' plays it relatively safe to start, having no trouble recapturing the RnB daydream sound of Currents but shying away from offering anything more just yet. 'Borderline', however, feels much more pressing and joins a jittery narrator out of his comfort zone after having "gone a little far this time". A palpable anxiety builds as programmed beats, flutes and layered vocals pinball around in an increasingly crowded space. It's noticeable how much more intense the album version of this track feels compared to the single take released last May – Parker must have spent many nights in between then and now toiling away at this richly textured story.
On 'Posthumous Forgiveness' his voice washes in and out of earshot as he speaks with cutting honesty to his late father ("you decided to take all your sorrys to the grave"). This sprawling, Isaac Hayes-inspired song breaks into a new dimension with its last breath where the singer mellows and shares his own regrets. Left turns like this one are integral to the mystery of The Slow Rush: an album that meditates on unfinished processes rather than inevitable ends.
'Breathe Deeper' features a lush, danceable bassline that distracts the listener before the song descends down a rabbit hole full of loud, angry synths. The track's arresting final minute feels like a key juncture in the record (and perhaps also a reward for those who made it through the preceding run of consistently long songs) as Parker appears to home in on the thick fog of intrigue he's been searching for.
FROM THE ARCHIVE: Kevin Parker in conversation about Currents
Questions of time permeate The Slow Rush – in particular, an anxiety about the passing of time and the threat of it running out. But in a moment of clarity on the beautiful 'Tomorrow's Dust', Parker frees himself from these self-imposed pressures and remembers "there's no use trying to relate to that old song; and no use trying to tell if the bell has tolled". With this realisation, the record grows more malleable in sound and its horizons expand.
Parker sounds self-assured by 'On Track'; whenever self-doubt surfaces, he stands firm. Next, a muscly synth riff rips through the upbeat and catchy 'Lost in Yesterday' – a kaleidoscopic song that feels very much like trademark Tame Impala. The Slow Rush is finding its groove now, growing confident in its dancier, Italo disco inspired sound.
"You aren't as cool as you used to be," Parker says to himself on 'It Might Be Time', but he doesn't consider this to be a problem anymore. Instead, it's a license to do what he wants without worrying – to do things like merging a Daft Punk riff with a meandering, Caribou-like instrumental on 'Is It True'. Not everything delivers in the album's final phase, though: end of the night song 'Glimmer' glides by without incident, and it's tempting to tune out as 'One More Hour' echoes round an emptying room.
On first listen – or perhaps first handful of listens – this record feels more 'slow' than 'rush' in nature. But there is a human quality to its flowing and sometimes indecisive structure; the moments it spends treading water are, more often than not, cut short by outbreaks of urgency that achieve real lift off. Painstakingly fine-tuned in the studio, The Slow Rush provides Tame Impala with the punch needed for stadium tours while still meaningfully evolving a complex, liquid sound.
Free Protomartyr flexi disc with this month's magazine
Subscribers to Loud And Quiet now receive a limited edition flexi disc of a rare track with their copy of the magazine
This month's disc is from Detroit punk band Protomartyr