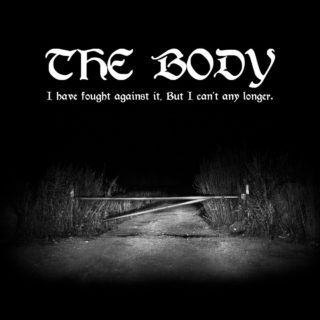 The Body
I Have Fought Against It But I Can't Any Longer
7/10
On the record shelf of hipster-approved metal, couched between Sunn O))) and that Deafheaven album with the pink cover, sits Portland's The Body. Having spent almost two decades exceeding in their own stylistic field, collaborating with likeminded alt-doomers (The Haxan Cloak, Thou, Full of Fire), 'I Have Fought Against It…' could only be business as usual: metal, on their own terms.
Despite their usual all-caps darkness (the Bohumil Hrabal reading on the album closer is particularly pantomimic) the most likeable thing about the duo is their self-referential approach to the genre. With semi-scriptural and apocalyptical titles like 'Blessed, Alone' and 'The West Has Failed' (the latter sampling reggae musician Eek-A-Mouse for bonus proselytising), the unbearable nihilism of Chip King and Lee Buford make them one the best 'parody' metal bands about. Honestly, who else outside of '90s gangsta rap would be pictured in press materials wielding a very real-looking shotgun?
For a duo whose best work exists in long form, IHFAIBICAL is full of… well, fire. I maniacally bobbed to heavy-hitters 'Off Script' and 'Nothing Stirs' (Kristin Hayter from Lingua Ignota's snarling vocal on the latter demands repeated listens), and got lost in the ambient dread of 'Can Carry No Weight', which probably warrants the runtime of epics from 2014's 'I Shall Die Here'. But that's just the thing; the charm here is in the work's accessibility. A great entry point, and decent fodder for noise night at your local vegan café bar-cum-grooming salon.
New monthly memberships available
Here's a new thing: our membership scheme now has a pay-monthly option, plus a load of exciting new digital stuff for people who support what we do. It's actually excellent value, honest, and will help us continue to promote new independent artists and labels.
Sign up and you'll receive our physical magazines delivered to your door, our digital editions, exclusive podcasts and playlists and access to our EXTREMELY glamorous Members Lounge. You'll be the envy of all your friends.