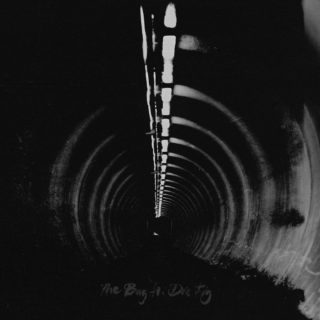 As The Bug, producer Kevin Martin has not only been responsible for much of the murkiest, most oppressive bass music of the last 20 years, but has managed to lure some stellar collaborators into the fog with him along the way. Two of the most recent shared projects he's been involved with, 2018's one-two of his Miss Red collab K.O. and the link-up with Burial as Flame 1, represent the poles of his distinctly grubby, suffocating sonic range: the former a fiery cocktail of dancehall and dub with massive hooks to match Martin's thunderous production; the latter an uncompromising trudge, rich with Burial's trademark atmosphere. 
In Blue, Martin's new collaboration with Berlin producer and vocalist Dis Fig (aka Felicia Chen), lies somewhere between these two poles. Chen's vocals melt down the flanks of Martin's hulking instrumentals elegantly, managing the impressive feat of maintaining an artfully glazed-eyed detachment without crumbling into disinterest or ineffectuality. Deep in the mix and bathed in subtle dabs of reverb and modulation, her melodies serve to bring the contours of each track into sharper relief as opposed to dominate them entirely, her voice a timbral detail rather than a leading light. Over a full album, this does occasionally wear a little thin, although one is tempted to reserve too much judgement until this stuff can be heard in its proper context – a small club with a big soundsystem – post-pandemic. For now, this is a worthy addition to the constantly-evolving canon of The Bug.
Loud And Quiet could do with your help
We love making Loud And Quiet – our magazines, this website, our podcasts and more – but it's become increasingly difficult for us to balance the books.
If you're a reader who'd like to help us keep the show on the road, please consider becoming a Loud And Quiet member. There are options to receive our physical magazines and lots of other extras that are exclusive to our supporters.