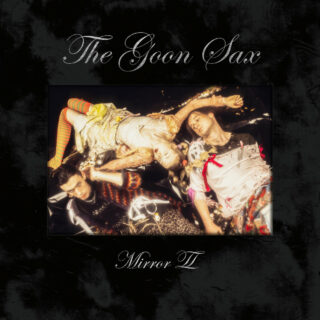 Brisbane trio The Goon Sax return with Mirror II, an album which delves into the multi-dimensional layers of self-reflection and what it means to be mirrors of the people in your surroundings, influencing and being shaped by your friends. It feels very personal, and it's easy for listeners to connect with the intimacy that went into the songwriting – a process that took place in a Queensland house shared by the three band members and allowed intense, emotional music-making. 
The album's strength lies in the different tastes of individual members. They skilfully support each other while letting everyone have their chance to showcase a unique musical personality and references. The songs switch off, with each member getting a chance to contribute vocals in their own style. A few tracks to pay particular attention to are 'Psychic', 'Bathwater', and 'Desire'. 'Psychic' builds momentum with dramatic synths that electrify the song with a dark twist on '80s dance-pop. While the vocals take centre stage on most of the tracks, the garage-revival guitar riffs on 'Bathwater' are a memorable moment on the album and will have listeners coming back again and again. 
There are a few weaker tracks that muddle the flow of the album and could have been left off altogether. 'Temples' in particular strikes out as too separate from the rest of the songs, but otherwise the record is a strong project that is bound to excite fans and new audiences alike. 
New monthly memberships available
Here's a new thing: our membership scheme now has a pay-monthly option, plus a load of exciting new digital stuff for people who support what we do. It's actually excellent value, honest, and will help us continue to promote new independent artists and labels.
Sign up and you'll receive our physical magazines delivered to your door, our digital editions, exclusive podcasts and playlists and access to our EXTREMELY glamorous Members Lounge. You'll be the envy of all your friends.