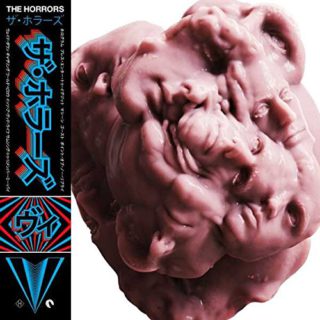 Plenty of bands have standout records in their catalogues, but few more dramatically than The Horrors. How did the same outfit responsible for the spiky, primitive 'Strange House' follow it up so sumptuously with the sublime 'Primary Colours'? And even more perplexingly, how did they go on to follow it with the meandering 'Skying', and then the listless 'Luminous', and now, at the third time of asking, with an album as milquetoast as 'V'?
'Primary Colours' fizzed with such intense urgency that the veritable parade of complacency since is quite incredible, even if it's well in line with frontman Faris Badwan's announcement in 2015 to NME that the politics of the day don't affect him. It's never a good sign when a group lazily title an album after how many they've released, with recent proof being Wavves' own 'V' or Bloc Party's 'Four', and that lack of ideas runs right through this record. Lumbering opener 'Hologram' sets the tone, and its murky, repetitive beds of synth form the basis of much of the record. To Badwan's credit, his vocals still soar, but there's not much on 'V' that we haven't heard before and the worst part is that when there is, it's deeply ill-advised – see the disastrous stab at new wave that is 'Press Enter to Exit'.
You get the sense that The Horrors still have greatness in them (see Tom Furse's experimental solo album and Badwan's work in Cat's Eyes) but it's not here.
New monthly memberships available
Here's a new thing: our membership scheme now has a pay-monthly option, plus a load of exciting new digital stuff for people who support what we do. It's actually excellent value, honest, and will help us continue to promote new independent artists and labels.
Sign up and you'll receive our physical magazines delivered to your door, our digital editions, exclusive podcasts and playlists and access to our EXTREMELY glamorous Members Lounge. You'll be the envy of all your friends.