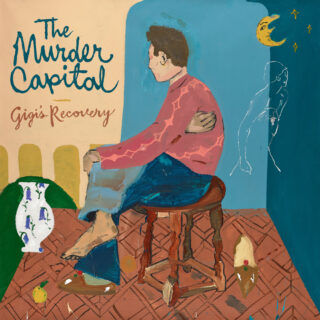 The Murder Capital
Gigi's Recovery
9/10
Post-punk is undoubtedly one of the most exploited genres of the last 12 years. The proliferation of acts and bands with rough vocals, spoken-word delivery, noisy guitars and hammering drums has been unstoppable throughout much of the US and Europe, and finding an outstanding quality in this mare magnum of feedback and guttural lyrics is nearly impossible.
Then, along came The Murder Capital.

Although the description of the band's sound perfectly fits the one here above, there is something else about the Dublin outfit's approach and songwriting that makes it distinctive – and superior. Many factors contribute to this, from James McGovern's training as a cellist and his desire "to fucking sing, to really sing" on Gigi's Recovery, to the exquisite ear of the band, influenced by the best of '80s pop and '00s indie rock, for the melody that emerges between the lines. An unintentional concept album, this second record took the band two years to write and record, a time that was needed to balance out the rush with which they released their debut. The result is a suite of 12 songs, each tense and urgent in a different way, flowing without filler and bracketed by the new-age-informed opener 'Existence' and the final acoustic ballad 'Exist'. There are nods to Tears from Fears, winks to The Strokes, nudges to Pixies, and waves to Interpol, but above all, there is the discovery of an ideal sound, one that works magically between the four group members and gives back that magic to the listener's ear.
Free Protomartyr flexi disc with this month's magazine
Subscribers to Loud And Quiet now receive a limited edition flexi disc of a rare track with their copy of the magazine
This month's disc is from Detroit punk band Protomartyr