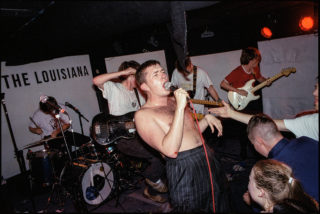 Shame are curating a festival – here's Charlie Steen on the acts they've got playing
Alongside Cate Le Bon they're picking the artists playing Sonic City in November
In November (8th-10th) Shame are heading to Belgium. Alongside Cate Le Bon they're curating this year's Sonic City festival. That means they'll both be playing in Kortrijk, but they've also chosen a chunk of the line-up joining them. Cate Le Bon has selected the likes of Deerhunter, Holly Herndon and Tony Njoku to perform. "We've never done anything like this before," says Shame frontman Charlie Steen. "Curating a festival, it's a dream." The closest his band have come in the past is putting together nights at The Windmill, Brixton, with friends like Sorry and Goat Girl. "What's so special about all of those artists we have on this line-up is just how amazing they are live. For us it's about putting on a good night." And playing themselves, of course. Shame have spent the summer finalising material to appear on their forthcoming second album, and they're promising to air new material. So alongside the likes of Sheer Mag, Scalping and Blanck Mass who Shame have selected on the bill, here's Steen on some of the artists they've invited to play and why.
SQUID
"First of all they're a fucking amazing band. We all really love them. When we finished touring at the beginning of the year Shaun [Shame bandmate] and I went away to Cuba, we came back and everyone was talking about them. I had first met them at the Marquis of Granby in New Cross. We got really fucked together. They know a lot of people that we're friends with. They're a really great band, very talented. Obviously they've been working with Dan Carey, an amazing producer, so we're really excited to have them play."
*FONTAINES D.C.
"We've known them for a while now. Very happy for those boys, they're amazing and they work hard as fuck.  They're good mates of ours. First time I met them was at the Five Bells in New Cross just after they played a show. They were kind enough to support us on our last UK tour and we became quite close with them then. We've been seeing them at festivals since and they've grown and grown. That time they were touring with us wasn't long before they released their debut album Dogrel so they've had an amazing year. One of the elements that's led to their success is identity. Grian Chatten's lyrics are amazing and concise. It feels very clear and honest, and that connects with anyone."
BLACK COUNTRY, NEW ROAD
"I'm still yet to see them live, but I've heard so much about them. I know everyone else in the band has seen them before. The few songs that they have out are really fucking cool. They're a really interesting band. That last track 'Sunglasses', I've been playing that track so much. They seem really interesting, a different type of music as well with the sax and everything. It's kind of a big band vibe, it's really cool."
THE MURDER CAPITAL
"Those boys are very fun to go on a night out with. You need to book in a weekend with them. Going to Dublin for us as a band has always been a really great experience. It's always really fun. We would have met them a while back. They had a period when they recorded their debut album in London and so they had a month here, we were seeing them quite frequently and going out. I live in an old nursing home, and I've had a few parties at mine and they've always been here and been the life of the party. The Murder Capital – they're the ones I'm kicking out at 1pm the next day."
THURSTON MOORE GROUP
"I mean, that's a fucking amazing thing to be able to get, right? When we met up with the people organising the festival at the beginning of summer, we were really surprised that they said 'don't think about who's too big or whatever just suggest as many names as you want and we'll ask them and see if they're available'. Some of the names he had down were people we know we were never going to get like ESG or Stereolab, but on a similar level Thurston is a really fucking amazing person to get. I'm really interested to see what he's going to do. What an icon, a legend to have on the line-up."
We're not being funny...
… but can you become a member please?
It's actually excellent value, and will help us continue to promote new independent artists and labels.
Sign up and you'll receive our physical magazines delivered to your door, our digital editions, exclusive podcasts and playlists and an actual bookmark, as if printing a magazine in 2021 wasn't old fashioned enough.
6-month and full year memberships are available now. Fancy it?