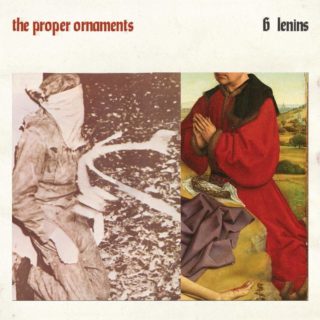 The Proper Ornaments
6 Lenins
(Tapete)
6/10
James Hoare (Veronica Falls) and Max Claps (Toy) have been through more than most to reach their third album. Both have traversed the turbulent indie pop scene that flourished in post-millennium London while simultaneously pursuing side projects of longstanding illness, divorce, drug abuse and this minimalist psychedelic project, The Proper Ornaments. The initiation of this record was no different to the usual tumult, with an infectious disease leaving Claps unable to do little else than pick up a guitar, providing the starting gun for '6 Lenins'.
Despite the influence of virulent ailments, this record is distinctly more upbeat than previous work. Slick songwriting proficiency is laid plainly across the duration, with additional impetus provided through subtle tips of the hat to psychedelic forefathers, creating a profound thump of quaint English nostalgia that Pink Floyd wouldn't be unfamiliar with. Refined progression is also discernible in their sound, with increasingly glossy sonic sensibilities now co-inhabiting with tried and tested lo-fi analogue attitude.
While it doesn't remotely reinvent the wheel, '6 Lenins' does provide a noteworthy and agreeable listen. From the earworm worthy 'Please Release Me' to the rose-tinted technicolour ambiance of 'Song for John Lennon', there's certainly enough to convince both new and old listeners.
Free Protomartyr flexi disc with this month's magazine
Subscribers to Loud And Quiet now receive a limited edition flexi disc of a rare track with their copy of the magazine
This month's disc is from Detroit punk band Protomartyr