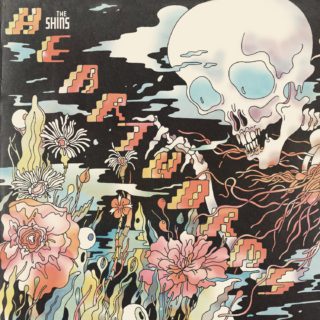 'Heartworms' is the first Shins album in five years, and the first to be produced by auteur James Mercer since their 2001 debut, 'Oh, Inverted World.' It is also only the second since relieving his fellow Shins of their duties back in 2011 in order to take back artistic control. And yet, while all of this might suggest the turning of a page, 'Heartworms' is, disappointingly, very much business as usual.
That's not to say it's bad. For long-time fans – the kind who cherished 'New Slang' before Natalie Portman handed her headphones to Zach Braff – this will be a welcome addition. Its scenes are intimate and Mercer is direct in a way that he hasn't been before as he explores ageing and parenthood from the vantage of his 46 years. 'Fantasy Island,' for example, looks back at his childhood – setting off fire alarms in school for attention, constantly daydreaming – and reflects on his adulthood, something which he still hasn't quite gotten to grips with. 'Mildenhall' is a very-much-literal account of Mercer's teenage relocation to Suffolk in order to accommodate his father's military career.
It's touching, it's heart-warming. Was it worth the five-year wait? Not really. 'Heartworms' is a decent Shins album without ever being great. Can I describe it in three words? Yes. Safe, safe, safe.
New monthly memberships available
Here's a new thing: our membership scheme now has a pay-monthly option, plus a load of exciting new digital stuff for people who support what we do. It's actually excellent value, honest, and will help us continue to promote new independent artists and labels.
Sign up and you'll receive our physical magazines delivered to your door, our digital editions, exclusive podcasts and playlists and access to our EXTREMELY glamorous Members Lounge. You'll be the envy of all your friends.