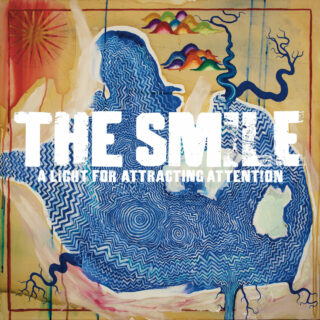 The Smile
A Light for Attracting Attention
(XL)
8/10
The Radiohead universe has a plethora of curious side projects from its five members, which can make for hours of exploration. Once you start heading down that musical rabbit hole, you'll come across film scores, collaborative forays with fellow music icons, and solo albums aplenty. The Smile are the latest addition to this canon, who appeared by surprise several months ago and are now unveiling their debut, A Light for Attracting Attention.
Comprising Jonny Greenwood and Thom Yorke alongside Sons of Kemet drummer Tom Skinner, this 13-track LP introduces us to a band driven by guitars and a post-punk sensibility. There are moments of gentle melancholy, like the beautiful acoustic ballad 'Safe in the Knowledge', balanced alongside the more frenetic 'Thin Thing' and 'You Will Never Work in Television Again', the latter of which bursts into a thrilling surge of energy that shows our two lead songwriters going back to basics and letting their hair down in a way that we haven't heard in some time.
Of course the needling guitars, doomy lyrics and Yorke's unmistakable falsetto are familiar, and 'Pana-vision' feels like a forgotten gem from the A Moon Shaped Pool sessions, with its orchestral swells and woozy, hypnotic piano keys. However, it's Skinner's masterful drumming that helps to set them apart and often feels like the modest star of the show. His brilliance shines through particularly on songs like 'The Smoke', where his beats retain the jazz-informed energy that he's known for.
Of all the projects to emerge from the Radiohead camp, The Smile are certainly deserving of making it beyond the listenership of super-fans only. So whether you're chomping at the bit for a new Radiohead album, or simply want to listen to some wonderfully executed and experimental alternative rock, this is a record worthy of your time.

Free Protomartyr flexi disc with this month's magazine
Subscribers to Loud And Quiet now receive a limited edition flexi disc of a rare track with their copy of the magazine
This month's disc is from Detroit punk band Protomartyr