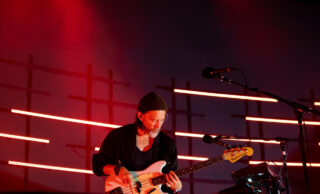 The Smile maintain the Primavera 2022 theme of miserable legends loosening up
TL;DR: great drummer
Pavement looked genuinely happy to be there. Nick Cave just occasionally let his cult-leader guard down to show a bit of humanity. Tyler, The Creator seemed vaguely chilled out. And now Thom Yorke and Jonny Greenwood appear to be having a laugh. What the fuck's going on?
Primavera 2022 has been a procession of megastars allowing themselves a little fun, and tonight The Smile continue the trend. Joined by phenomenal Sons of Kemet drummer Tom Skinner, Radiohead nucleus Yorke and Greenwood look as relaxed as they've been in years. The set is mainly drawn from the more energetic moments of recent album A Light For Attracting Attention, the percolating grooves and serpentine basslines pushing and pulling at a crowd that's impressively engaged for an early-hours slot this far into a two-weekend festival.

At the risk of getting too nerdy (that ship's probably sailed to be honest), the playing here is astonishing, and it's Skinner that holds the key. The likes of 'You Will Never Work In Television Again' and 'We Don't Know What Tomorrow Brings' have a weight to them that belies the compact three-piece setup, Skinner anchoring his more famous bandmates in a mesh of dizzyingly intricate yet admirably subtle rhythmic detail. His parts are never flashy, but they're never static, each pocket of space topped up with an inch-perfect timbral flicker that keeps the arrangements fresh without obscuring the essentials. Over this, Yorke and Greenwood are free to wring new textures from these tracks, their spidery, alternating bass, guitar and keys lines slipping in and out of phase with one another with just the right amount of fluidity. This is music as process rather than object, in continuous motion, dynamic and contingent; you can really tell that this feels as new to The Smile as it does to us, with the dead hand of over-rehearsal nowhere to be seen.
They don't communicate with the crowd much, save for a couple of classic Yorke lead balloons that are easily forgotten, but their relative silence seems to have more to do with their sheer enjoyment of the music than the moody reticence we all know and (don't particularly) love from their Radiohead days. In a low-key, admittedly quite safe manner, it's exhilarating, and Skinner is a revelation; not just for the power of his own playing, but for what he's capable of extracting from his bandmates too.
Photography by Sergio Albert/Dani Cantó
Free Protomartyr flexi disc with this month's magazine
Subscribers to Loud And Quiet now receive a limited edition flexi disc of a rare track with their copy of the magazine
This month's disc is from Detroit punk band Protomartyr