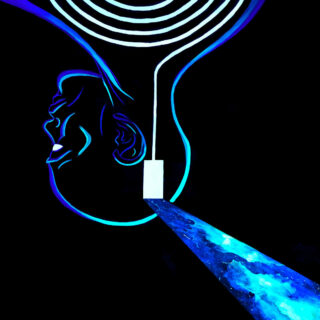 Theon Cross is interview in Issue 149 of Loud And Quiet. Grab a copy of the magazine here. 
Redefining a genre, or embracing genrelessness, is becoming more and more frequent in modern music, with portmanteaus springing up like leaks. On Intra-I, Theon Cross throws multiple music rulebooks out the window. Part of the British jazz scene, he specialises in tuba, but on this record he combines the resonating bass of his instrument with Caribbean melodies, hip-hop beats and powerful rap. Intra-I is soulfully energising, carefully orchestrated electronic music that has inherited all the dominant genes of drum and bass, dub, and club, and those genes go hand-in-hand with field recordings, afrobeat and modern jazz. 
Opening with a powerful call-to-arms, 'Intro' reaches out to those caught up in the nets of capitalism and asks them to stand poised in the face of a new day and not to be beaten down. What follows is an album that explores identity and the journey of self-discovery. Shumba Maasi, Afronaut Zu, Ahnanse and Consensus act as the mouth pieces of Cross' reflective narrative. 'Roots' commences Cross' meditation. Saturated in satisfying bass, Maasi speaks to taking pure ownership over yourself. Fantastically buoyant melodies act as a joyous introduction to Ahnanse's and Zu's verses that describe the good and the bad of searching for yourself.  
Transitioning from heavy electronica to purpose-driven percussion, 'Trust the Journey' includes field recordings, bringing the record back down to earth. Afrobeat and soca-inspired grooves growl whilst an ominous melody captures the curiosity and uncertainty of moving forward. A rapturous crescendo adds a tone of triumph; not one of finality but one of acceptance. This connection to the primal finishes out the album, Cross and Oren Marshall combining tuba forces to create a melodic wall of earth-shattering sound. 
Despite chronicling a journey of loss and introspection, Intra-I's tight instrumentation shows no moments of insecurity. Cross taps into the unpredictability of life with each unique track musically shifting from the previous yet they are all part of one flowing narrative. On stumbling across Intra-I, jazz wouldn't make it onto your list of genre-assigning adjectives. Theon Cross goes deeper than preconceptions by delivering a record that is truly personal and intricate.
Free Protomartyr flexi disc with this month's magazine
Subscribers to Loud And Quiet now receive a limited edition flexi disc of a rare track with their copy of the magazine
This month's disc is from Detroit punk band Protomartyr