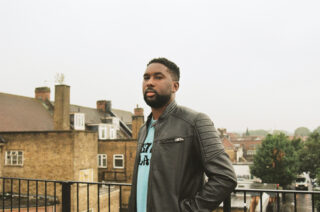 Theon Cross: a different kind of tuba player
Meeting the genre-bending Londoner in a room that's named after him
It's 10.29am and I have to suppress an unbearable smugness at my ability to arrive a whole minute early for my interview with Theon Cross, the tuba luminary, as I'm met almost immediately by the sight of the man himself, pacing downhill from the station, already offering an apology for being late, despite being on time, and with commendable precision. His timekeeping standards are clearly much sharper than mine. 
We're in Catford, south east London, standing outside a mock Tudor style pub, and it feels like it'll pour with rain at any minute. After a proper hello, Theon dives down to work on getting us through a series of gates and security doors, so we can get inside. But it dawns on me that this isn't a pub. As he begins expertly keying in codes and unlocking a series of bike chains, I ask how he's managed to get the keys to this place. He nonchalantly explains that he can access the building (Lewisham Music, a new community music space) "since they named one of the rooms after me." It's an impossibly cool response. But just how beautiful this is, far beyond just being a smooth-as-fuck retort to a dull question, becomes increasingly obvious as we get inside. 
We walk upstairs and along a freshly painted hallway before we arrive at a rehearsal room full of instruments, with a circular black plaque just outside it with Theon's name etched into it. He's seen this plaque before, so whilst I can't help but take a sharp intake of breath, he just lets out a laugh and unlocks the door. Besides this modest acknowledgement, if you can call it that, of the clear impact he's had as an artist, his success is not something he mentions. 
Over the past few years, Theon Cross has become notorious for quite fundamentally re-carving the tuba sound. He's brought it many steps away from its more traditional role within a marching band, as the repetitive, driving, deep bass-note that holds together the whole group, and into something incredibly different. In his hands, the tuba is a melodic, expressive and groove-inflected instrument, and with it, Theon creates a patchwork of sound that's influenced as much by jazz as it is soca, dancehall, reggae, zouk and sound system culture. And it has unquestionably made this south east Londoner a rising star, and amongst the most respected artists in what's become the most hyped city in the world to play jazz in. Hence the plaque. 
It's a sound he's brought to his band, the Mercury-nominated Sons of Kemet – where he plays alongside Shabaka Hutchings, Tom Skinner and Eddie Hick – as well as in his work with the incredible Moses Boyd and Nubya Garcia, and as an "extended family member" of the Steam Down crew. It's brought him collaborations with Kano, Little Simz and Makaya McCraven. But the dynamism of his sound is maybe never more apparent than when he's on stage with Sons of Kemet, and the time comes for a tuba solo. The rest of the band sit back for a bit, whilst Theon sends the crowd into raptures. 
It's a sound that's the backbone, too, of Theon's upcoming new solo record, Intra-I, which has been around two years in the making, and is being met with some serious hype. It's a rare phenomenon in the music world for a record with the tuba at its centre to receive any attention at all.
All this is a far cry from when Theon started learning his instrument. "I think now jazz has become quite cool, but it wasn't cool at the time. It wasn't cool at the time," Theon repeats, widening his eyes and suppressing a laugh, thinking back to his school days. He started out on the tenor horn, when he was eight years old, before switching to the euphonium, and then the tuba at secondary school. He was recruited by a marching band, called the Kinetika Bloco, which geared up young musicians for a workshop every summer at the Southbank centre. "We'd be exposed to music like Fela Kuti, Parliament, Funkadelic, Sun Ra, Duke Ellington. So much music that I wasn't really getting at home. That was when I first started to enjoy [playing] music, when I was first starting to encounter jazz."
It's also where he discovered his love for the much-maligned tuba. "In a marching band situation, I loved the simplicity of playing something repetitive, but a sound so important in holding the whole, large ensemble together," he says. "Bearing in mind that Kinetika had like a hundred strong drum section, dance section and brass section. So it made me feel important, and I think built up my confidence around that time on an instrument that was very unusual in most settings, but was so significant in that one."
Besides introducing him to the beauty of the tuba, and to jazz, the Kinetika Bloco made another vital connection for the development of Theon's sound. Also based at the Southbank Centre was Tomorrow's Warriors, the jazz workshop which famously helped to develop the likes of Moses Boyd, Mark Kavuma, Nubya Garcia and Femi Koleoso. Though it was restricted to more experienced musicians, Theon snuck in with his brother, and ended up taking part in the workshops by using the tuba "basically like a frontline instrument, like a trombone, or a saxophone, or a tenor. Luckily, it wasn't an environment where they said, 'Ah well, this instrument doesn't do that, so you can just go home,'" he remembers. "That distinguished me from other tuba players, who would just do the classical. Those workshops made me find my own voice, and my own way of approaching improvisation, which I think a lot of other people on the instrument didn't have."
After Tomorrow's Warriors, Theon went on to the Guildhall, where he studied jazz and developed further this talent for breaking the tuba away from its traditional sound, playing it "fearlessly", as if it was something more like a saxophone.
"I think with all the jazz background, that helped me in one arena," he says, "but then joining Sons of Kemet, I was able to express certain types of music, and certain types of rhythm, that I only listened to socially.
"If we've had any success, as a generation, I think making it 'cool' has been by infusing those other things within it, that people from this country can understand. It's resonated with the cultural landscape here, and I think that's by respecting all sides, and by being ourselves."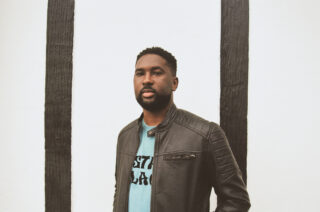 It was back in mid-2019, between a Sons of Kemet tour and the release of his first solo album, Fyah, that Theon started to make Intra-I. He laughs off my quiet amazement that at the same time as all of that he was able to compose. "The process has always been alongside all of the different things I've been doing," he says, "but as lockdown progressed, and we were all by ourselves, it was actually something I could continue to work on." 
Besides giving Theon the stillness to expand on the concepts he came up with during his 2019 tours, the pandemic was also an immensely difficult time: Theon lost his father, and he experienced anxiety and depression. After the intensity of the grief of losing someone so deeply important, and so close, a lot of people can only anchor onto escape, or switching off, to stop from sinking. For Theon, it wasn't like that. He took these experiences as a prompt to look inwards, and from that put together an album that is not only spirited but infectiously hopeful, too.
Intra-I sees Theon working with some immense talent to affirm this message. On 'Roots', Shumba Maasai's beautiful vocals speak directly to one of the key messages underpinning the record: "My ancestors there / They're guiding me / I took a trip to the realms / They reminded me / We've got your back / Keep pushing / Keep striding, King!" It's an idea that was key for Theon, "using your roots to empower you, your heritage, going back to go forward." 
Elsewhere, Theon brought in the energy of Afronaut Zu and Ahnanse for 'The Spiral'. "'The Spiral', for me, is understanding yourself, and understanding your mind, your desires," he says. "I think that's the path to overcoming feeling anxious and afraid. Seeing the energy that Ahnanse gets in, and how he understands dancehall, to Nigerian music, to so much within the space of the Afro-diaspora, he just felt like the right person for the track."
In between are instrumentals, with Theon's tuba melodies at the centre. They're extraordinarily powerful and moving. On one of them, '40tude', there's some spoken word at the end. I ask Theon whose voices these are. "Those are my grandparents," he says. "I actually recorded them without them realising." It's a conversation about their migration from St. Lucia to London after the war. They were promised that they would be able to make so much money here, that they'd be back home within five years, with enough to live very happily on. But they ended up staying for forty. "And it made me just reflect that if they had only come for five, I wouldn't be here," says Theon, "or so many of the West Indians who came here wouldn't have created the Black British identity, and all that's come from that one experience, from coming for five, but staying for so much longer and enriching the country in such a big way. So it's a play on words for forty, but the fortitude of being that generation, able to overcome so much for me to be able to be here." He laughs. "Sitting in the Theon Cross room, because they, you know… it's the journey of going within, it's looking back as well."
"My dad never got to see this room," he says, looking around, "and he never got to hear the album, but it's all in honour and dedication. I've got a track called 'Watching Over (Bless Up Dad)', and I believe that he's seeing it, and he's empowering me. My family did the work for me to be able to be here sitting in this room. The album is Intra-I, but 'I' doesn't mean just myself. For me, it's in the Rastafarian sense: 'I and I' is 'we'. I think we're not here alone; this isn't just about me. It's about the people that have come before me, so multiple 'I's. It's a journey of community."
Gift subscriptions are now available
It's been a long time coming, but you can now buy your pal/lover/offended party a subscription to Loud And Quiet, for any occasion or no occasion at all.
Gift them a month or a full year. And get yourself one too.
Whoever it's for, subscriptions allow us to keep producing Loud And Quiet and supporting independent new artists, labels and journalism.