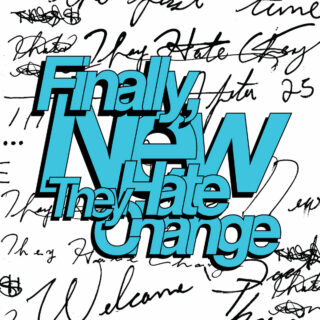 They Hate Change
Finally, New
8/10
"I think at this point we definitely self-define as Anglophiles," said Vonne, one half of the subversive Tampa hip hop duo They Hate Change, in an interview with L&Q last year and, as if to illustrate their point, then reeled off names of influences from Novelist's 'rough sound' to Brian Eno, India Jordan and happy hardcore. This infectious enthusiasm less feeds into their own music than is the lifeblood of it, and was sufficient to turn heads at Jagjaguwar; Finally, New is the pair's debut for the storied label.
Where to start with a record this gleefully diffuse? It's important to state that, as amorphous as their inspirations are, They Hate Change evidently understand the importance of coherence; Finally, New flows beautifully, in such a manner that when, say, the breakbeats are introduced on 'Reversible Keys' early on, just minutes after the drum-and-bass shuffle of 'Who Next?', or when the twinkly sampled synth on 'Little Brother' then feeds straight into the murky, horrorcore-inflected 'Some Days I Hate My Voice', on which they namecheck Poly Styrene, it's hard to imagine any listener batting an eyelid – it all locks together so smoothly.
For all their talk of U.K. obsession, meanwhile, the truth is that Finally, New is rooted in a sound that subtly subverts a rich tradition of U.S. alternative hip hop; early Outkast loom large, as do Camp Lo, Digable Planets, and Busdriver. The joy is not in going over this effervescent record with a fine-toothed comb, but instead allowing the British influence – sonic and lyrical – to gradually reveal itself. In that respect, this is an album with more Easter eggs than Cadbury's HQ – a brand they presumably prefer to Hershey's.
Loud And Quiet could do with your help
We love making Loud And Quiet – our magazines, this website, our podcasts and more – but it's become increasingly difficult for us to balance the books.
If you're a reader who'd like to help us keep the show on the road, please consider becoming a Loud And Quiet member. There are options to receive our physical magazines and lots of other extras that are exclusive to our supporters.