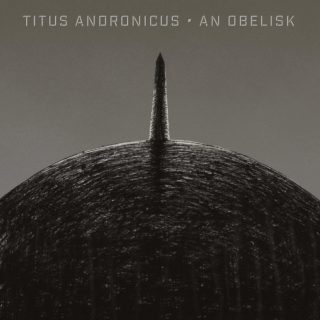 Titus Andronicus
An Obelisk
(Merge)
3/10
Much has been made of Titus Andronicus' sixth studio album being a back-to-basics job, in which the New Jersey group rediscover their punk roots and early-days raucous shows after ballooning into a band that make double-LP rock operas and concept albums about the American Civil War. Accordingly, Bob Mould of Hüsker Dü produces, and a no-flab, four-dudes-in-a-room aesthetic is enforced that should, in theory, play to the strengths of a band once legendary for their viscerality.
Of course, the perennial danger of the stripped-back approach is that if you don't look good naked, it's going to show pretty quickly. And so it is with 'An Obelisk' – a group of songs competently recorded to sound as if being played in a satisfyingly noisy bar, but irreversibly tainted by crass mid-tempo chug ('My Body and Me'), the sort of boilerplate boogie-woogie blues bollocks that embarrassed the late Oasis albums ('Hey Ma', graced with – why? – a punk-rock celtic jig coda) and, worst of all, 'I Blame Society', all cod-righteous pub-bore makes-you-think lyrics underpinned with corny rock-chops clichés.
Things improve slightly with the pleasingly pithy 'Beneath the Boot' (88 seconds long) and 'Too Many Police' (even better at just 69), where a little urgency is injected into the tedium, but elsewhere it's the same old route-one dinosaur rock. Apparently, "'An Obelisk' is built for the stage"; based on the studio version, you have to hope, for their sake, that Titus Andronicus are still good live.