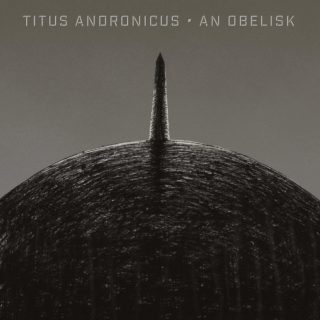 Titus Andronicus
An Obelisk
(Merge)
3/10
Much has been made of Titus Andronicus' sixth studio album being a back-to-basics job, in which the New Jersey group rediscover their punk roots and early-days raucous shows after ballooning into a band that make double-LP rock operas and concept albums about the American Civil War. Accordingly, Bob Mould of Hüsker Dü produces, and a no-flab, four-dudes-in-a-room aesthetic is enforced that should, in theory, play to the strengths of a band once legendary for their viscerality.
Of course, the perennial danger of the stripped-back approach is that if you don't look good naked, it's going to show pretty quickly. And so it is with 'An Obelisk' – a group of songs competently recorded to sound as if being played in a satisfyingly noisy bar, but irreversibly tainted by crass mid-tempo chug ('My Body and Me'), the sort of boilerplate boogie-woogie blues bollocks that embarrassed the late Oasis albums ('Hey Ma', graced with – why? – a punk-rock celtic jig coda) and, worst of all, 'I Blame Society', all cod-righteous pub-bore makes-you-think lyrics underpinned with corny rock-chops clichés.
Things improve slightly with the pleasingly pithy 'Beneath the Boot' (88 seconds long) and 'Too Many Police' (even better at just 69), where a little urgency is injected into the tedium, but elsewhere it's the same old route-one dinosaur rock. Apparently, "'An Obelisk' is built for the stage"; based on the studio version, you have to hope, for their sake, that Titus Andronicus are still good live.
New monthly memberships available
Here's a new thing: our membership scheme now has a pay-monthly option, plus a load of exciting new digital stuff for people who support what we do. It's actually excellent value, honest, and will help us continue to promote new independent artists and labels.
Sign up and you'll receive our physical magazines delivered to your door, our digital editions, exclusive podcasts and playlists and access to our EXTREMELY glamorous Members Lounge. You'll be the envy of all your friends.