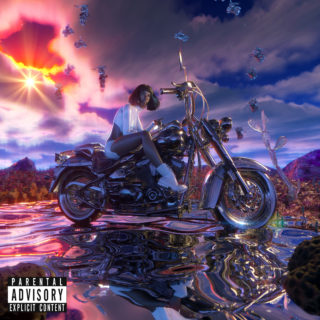 Tkay Maidza
Last Year Was Weird, Vol. 2
(4AD)
8/10
There are many things about Adelaide rapper Tkay Maidza that suggest she's a shrewd negotiator. Between her own clothing brand and a series of high-profile features – including Killer Mike, Charli XCX and Troye Sivan – the fact that we're yet to see a full-length LP from the 23-year-old to follow 2016's Tkay (from which she's moved on considerably in musical terms) doesn't seem to matter. But if her second mixtape Last Year Was Weird, Vol. 2 indicates anything, it's that she's happier surveying the landscape before her every step – or, as she puts it on the opening track 'My Flowers': "I don't need nobody to save me, I got me, I got me".
It's this independent mindset and unapologetic disposition that makes Maidza a magnetic personality, making Last Year Was Weird, Vol. 2 an essential chapter in her musical career even as it still only begins to take proper shape. There isn't anything as audacious as the reggae-like rhythm of 'Big Things' here, but Maidza's more outlandish tendencies have distilled themselves into a release stuffed with straight party tunes. Rap sharpshooter 'Shook' and the D'Angelo swagger of 'Don't Call Again' bump hard, but '24k', with its tasty bass lick, sunny tremoloed dance pace and killer hook, is where Maidza's melody and flow find perfect synthesis, bringing to mind a 2000s Aaliyah-style groove. As a vocalist, Maidza is unmatched, and she easily out-bars her collaborators, subtly coming off as more lyrically unhinged than a particularly aggro JPEGMAFIA on 'Awake' ("ADD, my day's like a riot / If the beat is David I'm Goliath").
That said, Maidza's return, itself a reminder that she's a genuine all-rounder, can't help but seem disappointing given the its brevity, and you begin to suspect that a deluxe package consisting of the planned three volumes (and we'll surely get one à la The Weeknd's mixtape compilation Trilogy) might appear a little uneven, given the two years' difference between Vol. 1 and 2. However, while the tides of pop risk changing yet again if Maidza takes another two years to release Vol. 3, this EP shows that she's weathered the storm before.
New monthly memberships available
Here's a new thing: our membership scheme now has a pay-monthly option, plus a load of exciting new digital stuff for people who support what we do. It's actually excellent value, honest, and will help us continue to promote new independent artists and labels.
Sign up and you'll receive our physical magazines delivered to your door, our digital editions, exclusive podcasts and playlists and access to our EXTREMELY glamorous Members Lounge. You'll be the envy of all your friends.