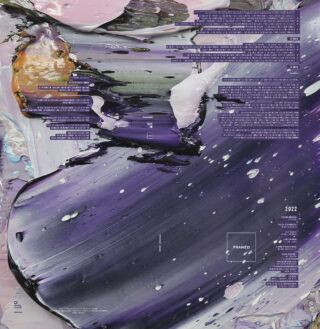 Various Artists
Framed 2022
(Framed)
7/10
If 2022 has been good for anything, it has been to remind us of the importance of communal arts spaces. Gig venues, galleries, cafes and concert halls, or those that survived, have returned to full-time schedules this year, to the relief of us all. They should continue to be celebrated for the rest of time, and the makers of this fascinating compilation, Framed 2022, clearly agree.
Since 2017, Framed has been the banner of an ongoing series of live events in Berlin, a self-described "non-profit salon" where live music, art and food come together for one-off collaborations and performances. Framed 2022 is a victory lap compilation of the best of the last twelve months' shows, each track a raw, master tape recording, presented without editing or mixing, which together form an authentic compendium of stylistically and geographically diverse, intimate performances.
The album is as much a love letter to the art of performance as it is to the music itself; ambient sounds place us directly in the room, whether from the creaking of a chair leg or the whirring of passing traffic. These could be seen as field recordings of humans in the wild, gathering in packs under the cloak of night to feed together and share their stories.
We hear the withering Greenwich Village wisdom of Trevor Bahnson on 'Time and Harmony', his freewheelin' fingers and Sixto Rodriguez voice using personal turmoil as fuel to scrutinise the flawed patterns of a world beyond his control. Sephardic Jewish folk singer Lily Henley sings 'Duermite Mi Alma', her imperishably strong, dignified voice channelling a history of female struggles; later, Henley is joined by Duncan Wickel on a cover of the bluegrass classic 'Boats Up the River', a performance that could easily pass as an Alan Lomax discovery that sits on a dusty shelf at the back of the Smithsonian.
Mehdi Nassouli gives a rapturous, hypnotic performance of 'Zid L'mal', complete with the ritual religious poetry of the Gnawa culture and the music of the guembri, a lute-like Moroccan instrument, while Catalan singer Lau Noah offers emotionally-strained, often wordless vocal yearnings on 'Adéu', proving herself to be the owner of a precious melancholy.
Included too is 'Dreams' by Yael Nachshon Levin, the Israeli singer and founder of Framed, who began the project five years ago by inviting guests into her living room to eat, drink and perform. Her performance brings a touch of 1940s glamour, but her greater contribution is to remind us that while we lost these bonds that tie us together as a culture for a while there, for as long as there are people among us like those that organise Framed, our culture remains in safe hands.