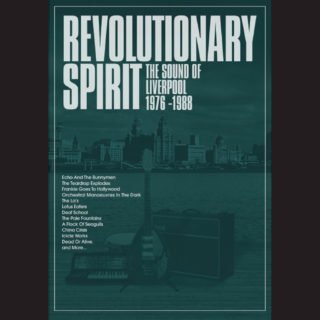 Various Artists
Revolutionary Spirit: The Sound of Liverpool 1976-1988
8/10
The record-breaking 12" singles, the cult films, the graphic design, the biographies, the autobiographies, the agony, the legendary quantities of ecstasy: Manchester has loomed so large in the post-punk imagination that the great frothing font of pop endeavour that was Liverpool is only just now getting something like its due.
If you like, Cherry Red Records' 'Revolutionary Spirit: The Sound of Liverpool 1976-1988′ will stand as a full-throated refutation of Mancunian chauvinism. More importantly, though, its five discs plant a flag in the historical record that can't go unsaluted. With many of the notes that accompany each track authored by the musicians themselves, 'Revolutionary Spirit' feels equal parts tribute, collaboration, and act of civic reclamation.
Mercifully, Cherry Red gives non-Scousers the shortest of handrails along the dozen-year journey, with familiar names like Echo and the Bunnymen and Frankie Goes to Hollywood represented by more parochial singles instead of the jukebox hits. (The best-known song here may be The Icicle Works' 'Birds Fly (Whisper to a Scream)', thanks to its appearance in the second season of Netflix's Stranger Things.) Scene genealogies are untangled and rethreaded through the liner notes, characters emerge (which pies wasn't Ian Broudie knuckle-deep in?), and the obscurer groups are not filler but the main event. Ellery Bop's 'Hit the Moon'; Pink Industry's 'Don't Let Go'; The Pale Fountains' 'Jean's Not Happening' – these and so many others have been afforded safe haven by Cherry Red from the back alleys of Youtube.
Chinese Religion's 'My Motive', it happens, "was released as a single funded by the band's friend Peter Roberts, using his Shotton Steelworks redundancy money." Liverpool was an especially tough pocket of the industrialised world to occupy in 1970s and '80s, but the "spectre of punk was to be the city's cultural revitalisation," Bernie Connor writes in the box set's prefacing essay. So it was, and finally here it is – a portfolio of creative resistance in the face of a deadening regime. Listen close, and let the spirit fill you.
Free Protomartyr flexi disc with this month's magazine
Subscribers to Loud And Quiet now receive a limited edition flexi disc of a rare track with their copy of the magazine
This month's disc is from Detroit punk band Protomartyr