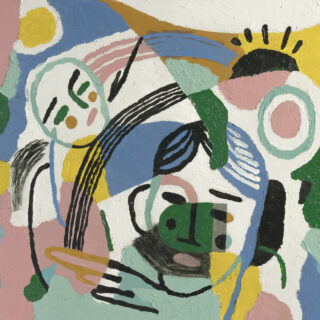 Whilst recording Vanities, the anticipated follow-up to W. H. Lung's acclaimed debut Incidental Music, vocalist Joe Evans claimed to have been in the "best place in my life." 
You have to admire his glass-half-full mindset during a period of great adjustment for the group. They lost member Tom Derbyshire to his pursuit of a filmmaking career, relocated from Manchester to Todmorden, and adopted a rip-it-up-and-start-again attitude for album two. In the finished product, the euphoria emanating from W. H. Lung's frontman is shrouded by an overarching darkness. 
Scenes of anarchy ("I saw a fight break out at Wembley") and anxiety ("I see faces everywhere I go / I lose control") dominate Vanities' visuals. W. H. Lung deftly intensify the mood conjured by their evocative lyricism with densely-structured soundscapes influenced by 1980s new wave and synth-pop. That's a well-mined era by contemporary artists, it must be said, yet it's proficiently done on this LP, particularly on the alluring melodics of 'Showstopper'. Beyond that, M83-like exuberance abounds on 'Figure With Flowers', 'Ways of Seeing' evokes mid-2010s Beck, while Future Islands ('ARPi') and Field Music ('Pearl in The Palm') also feel important to the work.
Vanities' arrival demonstrates how mannered Incidental Music was in its demeanour. Their latest offering lives up to the excesses and indulgences insinuated by its title. A dexterous record.
Subscribe now. Cancel anytime
Go on, give us a go
We love making Loud And Quiet – our magazines, this website, our podcasts and more – but it's become increasingly difficult for us to balance the books.
If you're a reader who'd like to help us keep the show on the road, please consider becoming a Loud And Quiet subscriber. There are options to receive our physical magazines and lots of other extras that are exclusive to our supporters.