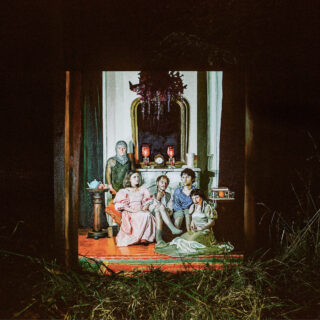 ALBUM OF THE WEEK
According to the Bible, "the eyes of the Lord are everywhere, keeping watch on the wicked and the good", and on the fantastic new long-player from Wednesday, Rat Saw God, drunken violence, drug use and casual flings play out under God's constant surveillance. "Every daughter of God / Has a little bad luck sometimes", repeats singer Karly Hartzman on the record's midpoint 'Bath County'. In this fully-realised reality little separates the "wicked and the good". Luck is seemingly the dividing line, yet in spite of Hartzman's caring delivery, luck is often in short supply.
The dispossessed characters within these walls play out like updated versions of those in Denis Johnson's cult short story collection Jesus' Son. Though unlike Johnson, Hartzman overflows with empathy, both for the location and the people within it. There's a tactile use of description; light bleeds from the "neon sign at the nail salon", and scent is heavy with a "hot rotten grass smell". The accompanying music is rusted and lurching, anchoring these recollections with a slide guitar yearning.  
The most ambitious amalgam of words and music comes on early single 'Bull Believer', an epic that churns disorientatingly. Towards the end Hartzman sings of a New Year party turned sour, her "never ending nosebleed" is matched as an equally thick homesick squall rages on. Against her screams the ugly intensifies to create a crooked cathedral of sound. 
Highlights abound elsewhere: the generous 'Chosen to Deserve' stomps anthemically and 'Formula One' swoons with tenderness. Now signed to Dead Oceans (home of Phoebe Bridgers and Mitski) Wednesday are well placed to reap the benefits of such a rich and riveting set. God willing, they will.
Free Protomartyr flexi disc with this month's magazine
Subscribers to Loud And Quiet now receive a limited edition flexi disc of a rare track with their copy of the magazine
This month's disc is from Detroit punk band Protomartyr