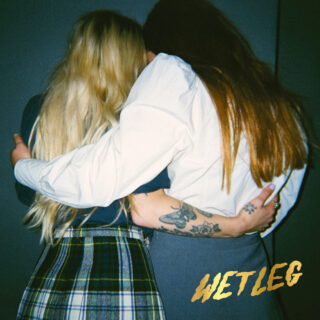 There are enough sardonic one-liners on Wet Leg's eponymous debut to fill a musical comedy act. It's a sense of absurdist fun that was showcased on their viral hit, last year's 'Chaise Longue.' With its post-punk guitars and half-spoken lyrics, which casually referenced Mean Girls, it seemed cut from the same cloth as another recent breakout success, Dry Cleaning. 
The album establishes them in their own right and more than justifies the hype: from being name-checked by Iggy Pop to being ranked number two in BBC's Sound Of 2022. It's quite an achievement for a band that formed at the top of a ferris wheel and had only played four gigs before the world went into lockdown. Suddenly finding themselves with more time on their hands, what started as a hobby became a full-time occupation for college friends Rhian Teasdale and Hester Chambers.
It was during quarantine that they nailed their sound and agreed on their manifesto: "As long as you're having fun, then everything will be alright," they told NME. This has given them permission to experiment with various sounds that are all fed through a love of '90s indie-pop. Listen to 'Ur Mum' and 'Oh No' and there are elements of The Breeders, Pavement, and Elastica.
This combination makes them reassuringly familiar, and yet their ability to write nagging hooks renders them genuinely exciting. These are tracks that make you want to dance, especially the disco handclaps on the infectious 'Wet Dream', while offering deadpan observations about modern life. "I don't need no dating app to tell me if I look like crap," snaps Teasdale on 'Too Late Now'.
The duo don't ignore the messiness or confusion of being a young adult but on their debut they distil the emotions into two-minute songs that are communal acts of joy.
Free Protomartyr flexi disc with this month's magazine
Subscribers to Loud And Quiet now receive a limited edition flexi disc of a rare track with their copy of the magazine
This month's disc is from Detroit punk band Protomartyr