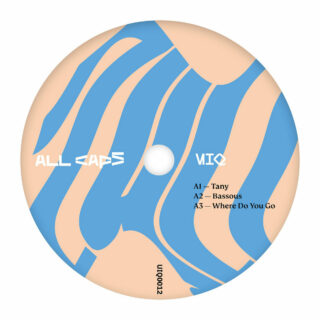 All Caps is the return of Cairo-based producer ZULI to Lee Gamble's UIQ imprint. It's an impressively hell-bent set of experiments in dancefloor contortion, balanced with off-the-wall humour throughout.
Opener 'Tany' immediately sets the pace with its blistering jungle breaks and haphazard filtering, evoking the anarchic breakbeat experiments of the influential German label Digital Hardcore. The drum sample is joyfully stretched and beaten to the point of almost derailing itself completely, drunkenly lapsing in and out of time as a disorientating vocal sample loops continuously over the top. There's a dizzying excitement to the brash looseness on display, an often sadly absent element across modern jungle.
'Bassous' swaps the breakbeats for a skittering, hacked take on footwork: building up from a menacing hum to an abrasive climax, its taut rhythm cycles through a succession of drum samples, jabbing and probing the listener into a state of tense anxiety.
'Where Do You Go' lulls you into a fake sense of security with its pleasant, yet knowingly vanilla introduction, a sample pack-aping 'oldskool' carbon copy, all soft, atmospheric pads and lite-jungle breaks. The carpet is swiftly pulled from beneath our feet as some kind of overdriven, dehumanised wail cuts through, swiftly making way for more militant breaks – an effective exercise in tension and release.
'Keen Demag' sits more in line with the futuristic sound design experiments of artists like AYA and Xin. Bright melodics and subs come pelting at the listener face first, part disorientating sugar rush, part engagingly constructed rhythmic workout.
The percussive playfulness continues on closer 'Bro! (Love It)'. Drum patterns are skewered, cut and pasted with gleeful abandon, before a abrupt screwing down of tempo and the sudden sampling of traditional Arabic instrumentation, a knowing barb aimed squarely at the rampant fetishisation of perceived 'exotic sounds' in dance music, doubled down as the music cuts and an American drawl exclaims, "Oh my god, this has Egyptian music all over it, love the Arabic fusion bro!"
As the music glitches back to its original rhythmic patterns, stuttered vocals and celestial pads, another voice chimes in, "Excuse me what happened to the North African music you were playing earlier?" The track is rewound violently for a final blast of manically chopped Arabic samples. It's a wry and ultimately necessary statement on how half-baked expectations are projected onto artists purely based on location and heritage.
"I am often approached with a preconceived notion of pretty much everything from my influences and taste to my politics and lifestyle, solely based on my nationality," ZULI told Resident Advisor recently. "Ever since this came to my attention I have been making a point to be as vocal as possible about how unfair that is."
The track works well in the sense that it's fundamentally well-crafted and exciting in its own right, the combative humour in the latter half elevating and complementing the overall mood rather than derailing it. As a closer, it is especially effective, as the full EP makes a clear statement for the wide breadth of the producer's sonic reference points.
Fundamentally, the EP excels in its joyful, humorous embrace of harshness – an approach reminiscent of breakcore at its most effective, breakbeat hardcore at its most innovative, and jungle at its most exhilarating. That ZULI doesn't then allow the music to be limited by its abrasiveness – the tracks are highly listenable, sonically diverse and, at points, display an intriguing attention to detail – makes it an even more resounding success.
Please support Loud And Quiet if you can
If you're a fan of what we do, please consider subscribing to L&Q to help fund our support of new musicians and independent labels
You can make a big difference for a few pounds per month, and in return we'll send you our magazines, exclusive flexi discs, and other subscriber bonus bits and pieces
Try for a month and cancel anytime