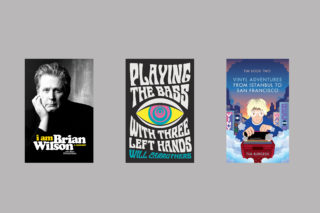 10 of the best books from 2016
These are the books released this year which come highly recommended
Each month for Loud And Quiet Janine and Lee Bullman write about the most interesting books being released – mostly they're about music, but not exclusively. Here's a run-down of 10 of their favourites from 2016.
Title: Turning Blue
Author: Benjamin Myers
Published by: Moth
Following on from 2014's excellent Beastings, Benjamin Myers' latest book is a folk-crime novel set against the backdrop of the bleak, weather-beaten Yorkshire Dales. In Turning Blue the fates of driven police detective Brindle and journalist Roddy Mace intertwine during the investigation into the disappearance of a local girl. Their enquiries face a wall of local silence, creepy loner Steven Rutter, a resident small time celebrity and an uncompromising landscape filled with deeply held secrets.
Turning Blue is cool, dark and hypnotic. As we've come to expect from Myers, landscape and nature play an important role in the book, providing the rough-hewn canvas on which he paints another gripping, shadowy portrait of humanity, and in the process proves himself yet again one of our most interesting and original writers.
Title: Love In Vain. Robert Johnson, 1911 – 1938
Author: Mezzo and J.M. Dupont
Published by: Faber and Faber
Love In Vain is a gritty, evocative and atmospheric graphic novel exploring the myths and legends that make up the story of Robert Johnson. Johnson was the legendary bluesman who made his devilish Faustian pact at the crossroads before going on to record the twenty-nine songs that went on to influence everybody from Dylan to the Stones and helped form rock 'n' roll as we know it.
It's is a beautifully drawn and thoughtfully written take on the Johnson story. It follows the bluesman as he makes his way from his birthplace in the rural American south to the cities of the north and takes in his childhood, his womanising and his musical career against the backdrop of a divided America. Love In Vain is special, less a biography of Johnson and more a fitting and exceptional work of art created in his honour.
Title: What happened, Miss Simone? A Biography
Author: Alan Light
Published by: Canongate
Throughout her career, Nina Simone followed her own star and played by her own obscure rules. Alan Light's book tells the story of a controversial, uncompromising, unbending visionary whose musical output seemed to flow straight from her difficult soul. Simone was able to express pure joy and complete despair, and as a civil rights icon she leaves a legacy that continues to inspire and engage activists to this day.
What Happened, Miss Simone? accompanies the film of the same name and draws from decades' worth of archived interviews and Simone's own private diaries, offering unique and intimate insight into a massively misunderstood idiosyncratic artist whose reputation often obscures the woman, and the voice, behind it.
Title: The Art Of Smuggling: The Gentlemen Drug Trafficker Who Turned Britain On
Author: Francis Morland and Jo Boothby
Published by: Milo Books
He lived the high-life as a well-respected British artist alongside New Generation contemporaries like David Hockney and Peter Blake, he skied for England and his father had hung out with George Orwell, but Francis Morland was living a secret, surprising and profitable, double life.
By filling his sculptures with dope and shipping them home, Morland was a dope smuggler before there were dope smugglers. He belongs to the breed of amateur, grinning maverick smugglers which includes Howard Marks and Michael Forwell, whose careers in law-breaking began life as an adrenalin-fuelled great adventure and built into something much bigger.
A most unlikely career criminal, Morland continued to ply his international trade upon his release and The Art of Smuggling… it tells his wild, unique and exhilarating story with relish.
Title: The Dark Carnival
Author: Derek Ridgers
Published by: Carpet Bombing Culture
Derek Ridgers has been stalking London by night, camera in hand, for decades. As a result his collected work is a well-stocked treasure trove of peacock sleaze, midnight danger, saucer-eyed high times and stoic fuck-you individuality. At a time when every self-obsessed look-at-me bore in the country is currently clogging up the internet with pictures of what they had for breakfast or the shoes they wore last night, Ridgers offers something with a bit more substance.
The large format, black and white portraits that make up The Dark Carnival are dark, deep and fun, Ridgers exposes the viewer to a world most of us don't know, a place where anybody can be a star and the normal rules definitely do not apply.
Title: The Rise, The Fall and The Rise
Author: Brix Smith Start
Published by: Faber and Faber
Shockingly, The Fall's career contains a period in which they almost came within spitting distance of the mainstream pop charts. There were proper videos, designer clothes and an impossibly cool, glamorous American girl playing shimmery waterfall chords on a six-string Rickenbacker guitar. The Rise, the Fall and the Rise is Brix's memoir, the tale of a West Coast girl who fell in love first with an English band, then with their singer. Brix's description of arriving in a cold, wet, grey 1980s Manchester is hilarious and her account of her time in one of the truly great bands is fascinating.
Post-Fall, Brix continued to go her own way, marrying Hendrix obsessed violinist Nigel Kennedy and forging a place for herself in the fickle world of fashion. Her book chronicling the events is open, honest, funny and warm, and highly recommended.
Title: I am Brian Wilson
Author: Brian Wilson with Ben Greenman
Published by: Coronet
Genius is a word that gets used far too often when discussing pop music, but in the case of Brian Wilson, the epithet fits. As chief songwriter for the Beach Boys, Wilson was responsible for the writing and crucially, the recording, of some of the most beautiful, original and game-changing pop music of the twentieth century. Wilson's ride was anything but easy though and in I am Brian Wilson, the beach boy is unflinching in his rendering of the euphoric highs and chaotic lows which have made up the last seven decades.
Wilson and The Beach Boys' story has been told many times before and is one we may think we know, but it has never before been voiced with the clarity, honesty and insight on offer here. Surf's up.
Title: Tim Book Two. Vinyl Adventures from Istanbul to San Francisco
Author: Tim Burgess
Published by: Faber and Faber
Tim Burgess makes music. In Tim Book Two though, we're shown that it's a two-way street. Music makes Tim Burgess. He is to be found often, hunched, flicking through a box of vinyl in the hope of finally scoring that Elodie Lauten seven inch or buying another mint copy of Eno's 'The Lion Sleeps Tonight.'
Tim is on a quest to track down the albums recommended to him by musical friends and heroes, wherever in the world he finds himself. The vinyl recommendations are then the jump-off point for ruminations on the music, the shops, the people, the gigs, the laughter, the tears, and the past, the present and the future.
Tim Book Two is an utterly fantastic book, required reading if you ever lifted a twelve inch square of plastic from a dusty rack with a smile that could be seen from space.
Title: Under the Big Black Sun. A personal history of L.A. Punk.
Author: John Doe with Tom De Savia and Friends
Published by: De Capo
Ever since Louie Louie had to go, punk rock has bounced back and forth across the Atlantic. At the end of the end of the seventies in Hollywood's back alleys and dive bars, punk meant Black Flag and The Germs and the journey to the Sunset Strip. And it meant X, the band John Doe plays bass for.
The Californian punk scene of the time has since passed into legend. Outside of the records and some flyers and fanzines, very little documentation survives of what was obviously a vibrant, sleazy, dark and shiny moment. In Under the Big Black Sun, John Doe collates recollections of some of the people whose grit, determination and glamour made the whole thing happen, shining light into some of punk rock's shadowy corners and telling a story we needed to hear.
Tile: Playing the Bass with Three Left Hands
Author: Will Carruthers
Published by: Faber and Faber
Will Carruthers played bass with both Spiritualized and Spacemen Three, providing the low notes in both bands' pulsing, modal incantations to the joys of heady chemical experimentation. Famously, Spaceman Three's disintegration played out rather messily and publicly, just as the band were about to make it.

Playing the Bass with Three Left Hands tells the story of the Spacemen Three implosion and subsequent birth of Spiritualized hilariously. The book is filled with sage advice ("if you ever do find yourself playing your instrument with three left hands, it's usually the middle one that's real"), and Carruthers' smart, acerbic description of the whole affair marks it as the most well written, funniest and most fascinating rock biography for a while.
Please support Loud And Quiet if you can
If you're a fan of what we do, please consider subscribing to L&Q to help fund our support of new musicians and independent labels
You can make a big difference for a few pounds per month, and in return we'll send you our magazines, exclusive flexi discs, and other subscriber bonus bits and pieces
Try for a month and cancel anytime