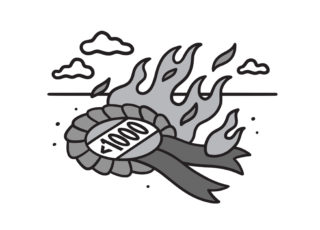 The <1000 Club: Not all bedroom projects sound that way
Introducing Give Me Monaco, who will release his second album this year as long as he doesn't delete it by accident
The records that usually get chosen for the <1000 Club are lovably scrappy. Albums that exist in the hidden corners of streaming platforms are often self-released – recorded, mixed and mastered in the same bedroom. Many creators wouldn't have it any other way. Part of the whole appeal of DIY music is this raw quality. It's as little a gap as you're going to get between listener and artist without breaking a few Covid restrictions. 
From the Coral to the Grey by Give Me Monaco is different. It's a pristine and tactile album, with a level of polish that suggests major label backing. It's far from being sterile though; the weaving electronic jams that make up the tracklist are subtly propulsive, ear-tickling and emotional. 
Its creator, Oxford-based producer Leigh Redding, made it at home, during late nights after work. Redding has been tinkering with music for years, under various aliases, but Give Me Monaco feels like a proper introduction. 
"I was always involved in music with bands and so forth but had never written a body of work completely on my own," Redding says. "I learned to produce through trial and error, initially with Cubase and then Ableton, which I still use. 
"I've never sat down and actually learnt to use a DAW. I occasionally Google something when I need to perform a certain action. I do a lot of things the long way round as a result, but that lends to my writing style and process so I don't think I'll ever change."
Part of the reason Redding's music sounds so professional is admittedly thanks to the growing accessibility of cheap high-quality music software. Crucially, the current generation at the forefront of internet electronic music communities seems increasingly collaborative, open and freeform. The high barrier of entry for hardware means more people are learning on their laptops before anything else. But the advancements in software synthesis makes this limitation transform into a place of endless possibilities.
But that doesn't account for the level of detail and texture on From the Coral to the Grey. Tracks like 'Satin' and 'Goose' play with the introspective, stone-faced linear branch of modern house explored by acts like Rival Consoles and Bicep, with extra focus on a widescreen stereo experience. The tiny fragments of percussion of 'After Show' feel like they could be plucked out of the air. He is a master of restraint, confident enough in the strength of his sound to develop a music phrase over the course of many minutes.
Redding had first released an album and a couple of EPs under the name Emseatee. "Some incredibly kind labels taught me so much, not only about my own writing but about how the underground music scene works," he says.  One of those labels was run by Eddie Niguel of Integrity Records, who got in touch with Redding after just a couple of tracks had been released. Redding is thankful for the knowledge he's gained, but felt now was time to go out on his own.
"The reason I stopped that moniker is because I wanted to self-release my own music, at my own pace. I have complete control over all aspects of my creative output, and it's been a hugely rewarding experience."
When From the Coral to the Grey was being written, Redding still felt at a distance to the music communities he was influenced by. "I didn't feel any connection to the listeners," he says. "I couldn't see who was listening." 
That changed when his music was discovered by YouTube music reviewer NotRealMusic, whose gushing praise for the album introduced it to his small but passionate international audience. Since then, the record has been given a physical release by previous <1000 Club alumni Speak and Spell Records, another hyper-online hyper-passionate community. 
The recognition from these platforms came at the right time for Redding, whose self-doubt meant that From the Coral to the Grey nearly never saw the light of day. 
"I started to doubt whether it would get heard," Redding says. "So I sent the album out to a few labels I had contact with through my previous moniker. In one instance, I got some pretty negative feedback. To cut a long story short, the project files ended up in the trash. I only had the pre-mastered mixdowns. 
"I made life a lot more difficult for myself in the mastering phase, that's for sure. In a strange way, that way of working has now been implemented into my workflow. A new ability to move forward more decisively."
In my time as a music writer, I've become aware that some larger publications and labels won't ever hear music if it doesn't have a professional PR company attached to it. It's somewhat understandable when you've got hundreds of records in your inbox. But underground communities like NotRealMusic are doing that legwork, and in a time when clubs and art collectives aren't running, those making a home base for underground music should be honoured. It's what keeps acts like Give Me Monaco creating when the people on the other side of the screen don't always seem real.
Now, Give Me Monaco is working on album two, which is expected to release before the end of the year. "That's if I don't delete it when I finish."
We're not being funny...
… but can you become a member please?
It's actually excellent value, and will help us continue to promote new independent artists and labels.
Sign up and you'll receive our physical magazines delivered to your door, our digital editions, exclusive podcasts and playlists and an actual bookmark, as if printing a magazine in 2021 wasn't old fashioned enough.
6-month and full year memberships are available now. Fancy it?