150 issues of Loud And Quiet – order our special edition now
Here's a very special edition of the magazine
The December 2021 edition of Loud And Quiet is the 150th we've made, exactly 17 years after issue 001.
We wanted to mark it in some way without being overly self-indulgent, and so this week we bring you Loud And Quiet 150 – part the L&Q you know and love/part a celebration of an improbable milestone via a 16-page segment of insight, memories and hilarity.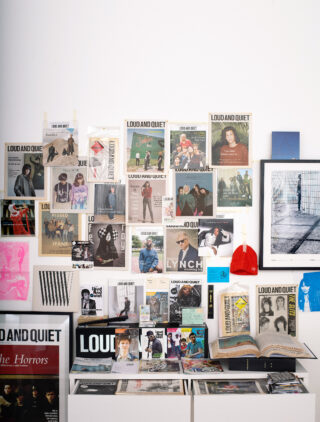 As you can see, the cover is a little different for us, and will be printed on uncoated matte paper in metallic black ink – it'll make sense once you see it. It's a collector's edition, illustrated by Kate Prior, with a special back cover too, photographed by Jonangelo Molinari.
In terms of our customary features with new artists we love right now, this issue features interviews with Cate Le Bon, Hackney rapper John Glacier, south London band Legss, instrumental party group Los Bitchos, Liverpool duo King Hannah and Black Country, New Road.
Cassandra Jenkins recalls being 16 for our Sweet 16 regular, we'll unveil our top 40 Albums of the Year, and tell the story of 2021 in tracks.
There's also the return of our yearly Customer Survey, filled out by Self-Esteem, Stuart Braithwaite, Arlo Parks, Chubby & The Gang, Kam-Bu and Amy Taylor. And Andrew Anderson dives into the world of streaming algorithms.
With our 150 celebrations, Sleaford Mods' Jason Williamson discusses his own past 17 years, Yard Act resurrect our Getting To Know You questionnaire, and I asked Kate Jackson of The Long Blondes the same terrible questions I asked her at the end of 2005.
Our writers share stories from some of their favourite interviews, Ian Beale makes a brief appearance and we finally print our world exclusive Paul McCartney interview from 2020. Plus a lot more, which we'll keep as a surprise.
It's been emotional, and continues to be. Thank you to everyone who's contributed to L&Q over these 150 issues and 17 years. Ridiculous!
Order a copy of our anniversary edition here.
Or sign up as a member and receive it as your first issue here.