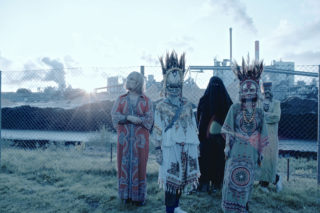 The 20 year story of Rocket Recordings told via 10 essential releases
A brief history to the heavy 'n' heady sounds of one of the UK's most prolific underground labels
"Rightly or wrongly, we're generally thought of as a psych label", Rocket Recordings co-captain Chris Reeder tells me over Skype from his London flat. "Don't get me wrong, I've got a lot of friends involved in those scenes, but it just seemed like a fairly narrow conception of what Rocket is about".
Rocket are, and always have been, more than harbingers of heavy 'n' heady grooves – that's only a part of their prolific output as one of the UK's busiest underground labels. Since their humble inception in 1998, Rocket have been responsible for some of the most forward-thinking British (and international) records of recent years, committing to wax the wonderment of astral rejecters Gnod, the ephemeral adjacent post-rock of Teeth of the Sea and the ecstatic trance of Goat. This is to mention nothing of the one-off collaborations, and the extra-curricular jams of "supergroups" like Temple of BBV. Rocket are a whole eco-system of cooperation, always ready to champion inter-label envelope-pushing. Through the commercialisation and reduction of UK indie music to a donkey ride seaside attraction (thanks The Libertines) Rocket have maintained a steadfast constitution in the mould of properly independent US imprints like early Sub Pop, Wax Trax! and SST.
To get this far is a huge achievement. To mark two decades, in March the label is hosting a series of birthday gigs in London featuring an impressive line-up of Rocket all-stars past and present. "It's going to be very special," Chris enthuses, "we're overjoyed to have gotten so many people involved. It's like a reunion of sorts." Together with Simon Healey, and later John O'Carroll, who today co-runs the label from their Bristol office, the humble beginnings of the label started with Chris putting out the records of friends and fellow scenesters. "We certainly didn't expect to be here 20 years later," he says.
These days Rocket are now considered forerunners of what's recently been coined New Weird Britain, the genre-bending philosophy of mind-expanding music on these isles, compliant with headbanging regulations one moment, insistent on freely shoegazing the next. "We were always interested in things that sounded different, but we also love repetition in music – in the early days, John and I would package our records like a factory line to the beat of Krautrock," Chris says. "Obviously, like any label nowadays, we take into account what sells, but we've never shied away from putting out the stranger things we've come across. If Gnod want to put out a more experimental album than the last, we'll be there. It's great that that sort of thing now gets a bigger audience today too".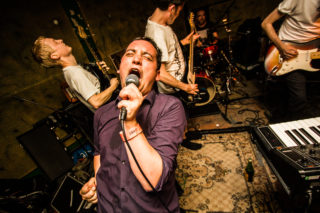 Chris is a label co-owner second, and a music fan first. We talk in great circles about Supernormal, an arts and music festival in Oxfordshire ("I've been to almost every single one"), and gush over Polish musical duo Zimpel/Ziołek, who've recently been announced as special guests for the Rocket anniversary series. Chris is visibly chuffed: "It'll be the first gig they've done in the UK – and it's for our event!".
A reoccurring theme through the catalogue is also the artwork. Chris, a former graphic designer, notes "we want to make records that not only sound great, but also look great when you see them on the rack."
While it's not in-keeping with the labels' ethos to get doleful about their past achievements – they prefer to face firmly forward – we asked Chris to pick 10 albums that illustrate the history of Rocket, and explain why they meant so much. 
"It isn't just that we're celebrating in March," he adds. "We're trying to make this a thing throughout the whole year with the releases we've got lined up."
Who: The Heads/Lillydamwhite
What: Split 7″
When: 1998
This is where Rocket Recordings started – it was conceived, if you like, during a Lillydamwhite gig supported by The Heads at The Louisiana in Bristol, 1997. Simon Healey and I drunkenly decided to start the label. Memory's a funny thing, but to my mind, it was when Lillydamwhite played 'Master F' that Simon and I said to each other "this should be out there, people should be able to get this on record". Then we both seemed to say "well, why don't we just do it?" – and we went from there… It feels doubly momentous because Lillydamwhite's bassist Gareth Turner, who went on to be in groups like Kuro and Anthroprophh, was to become someone we'd work with a lot.
Who: Oneida
What: 'Anthem to the Moon'
When: 2001 on Jagjaguwar, 2003 on Rocket
We heard the Oneida album 'Each One Teach One' when it came out in 2002 and it blew us all away. So we went back and listened to their two previous albums and we fell in love with both, particularly 'Anthem of the Moon'. We saw it was only released on CD so we approached them to do a vinyl release, which then became our first release by a band from outside the UK. They're such an amazing live band and we've had the pleasure to release two more records by them since then. Kid (Millions, Oneida drummer) produced one of 2017's best albums with his 'Man Forever' album.
Who: Mammatus
What: 'Mammatus'
When: 2006
We were introduced to this band when we started working with Residual Echoes, as recommended by one of our heroes Julian Cope. They sent us this demo by their friends, a group called Mammatus. It's this really heavy, drawn-out psych rock made by four guys from Santa Cruz, perhaps heavier than a lot of stuff we'd put out up to that point. But trust me, if we could sign a band that sounded like, say, 'Ride the Lightning' era Metallica, we'd be there in a second. Anyway, we asked the band about what kind of sleeve idea they had, and they gave us this brief: a wizard stranded in a stormy sea, fighting off a huge sea dragon with his staff. So naturally we called up Arik Roper, who was famed for his artwork for Sleep, Om and High on Fire. It was really nice to work with an illustrator on this – especially one we really admired – as John and I create 90% of the sleeves ourselves.
Who: Teeth of the Sea
What: 'Orphaned by the Sea'
When: 2009
They used to be called JAWS, but they obviously had to change their name. So they took the French title of Spielberg's movie – le dents de la mer – and translated it into English. Teeth of the Sea are one of those groups that, when I first heard it, there were times I couldn't quite make out what all the instruments were doing. It's psychedelic and flowing, but not in a way I was familiar with at the time. This was just something else entirely – something different. So atmospheric and rich. We've been really lucky to have worked with them, as they've become close friends of us and the label over the years.
Who: Gnod and White Hills
What: Dropout with White Hills II
When: 2010
Here's the thing with some of the groups who've been with us for a long time: it isn't that we're taking them on our journey, they're taking us on theirs – and Gnod have been one of those groups for us. You just never know what they'll do next, what they'll sound like next. They first collaborated with White Hills in 2008 and reunited for this recording in Dropout studios in Camberwell, before White Hills got signed to Thrill Jockey. It's a stunning jam, and in terms of Gnod's journey, this where they started to really gel. You can hear a lot of the Gnod R&D (Research and Development) in there, where the two central figures Paddy Shine and Chris Haslam perform spontaneous live show experiments, just to try and work out what they'll sound like next.
Who: Goat
What: 'World Music'
When: 2012
This one was really huge for us. Goat sent us a bunch of demos and we asked them to come back with an album. In about six months, we got 'World Music'. It eventually got to Lauren Laverne, who then played it on 6 Music. Back in the day, the goal was to have your stuff played by John Peel, and Laverne's backing seemed to have a bit of an osmosis effect. We loved 'World Music', but we couldn't have guessed that it would take off in the way it did. The next thing we knew, Goat were playing Glastonbury, and a mate of mine calls me to say they're heading the BBC coverage. I turn on the telly, and there they are! It was pretty surreal, especially given that the group weren't disposed to playing live or appearing on stage at first – hence the masks and costumes.
Who: Josefin Öhrn + The Liberation
What: 'Mirage'
When: 2016
Goat's booking agent sent us a couple of demos by Josefin and asked our opinion. We gave our honest feedback – it was ok, needed a bit of work – without thinking it would lead to anything else. These comments unexpectedly made their way back to the band and, funnily enough, they agreed 100% with what we said. So we met, got on, and agreed we'd help them get where they were going. We got Invada Records' wiz producer Stu Mathews – who'd worked with Portishead and The Horrors – to mix the album that eventually became 2015's 'Horse Dance'. The band then took on Stu's punch and grit for the stunning 'Mirage'. It was definitely a poppier sound than we'd gone before – and since, really. But John and I love The Kinks and The Beatles as much as we love Nurse With Wound and The Butthole Surfers.
Who: Pigs Pigs Pigs Pigs Pigs Pigs Pigs
What: 'Feed the Rats'
When: 2017
A prime example of a band with a daft name making great music. We first heard of Pigs x7 when they were the support band for Goat's second ever show, somewhere in Newcastle. They contacted us after the crazy show (which Goat still claim as their favourite ever gig) and sent us their demos. We thought the demos were good, but nothing we wanted to release just yet. Four years later, they sent us the demos for what became 'Feed the Rats' and we were blown away. Two killer, long songs mixing Black Sabbath with the repetition and noise of Gnod! But something seemed missing, so we threw down the gauntlet and asked them if they could do a short track, which they did. 'Sweet Relief', it was called: a slab of heavy groove, with a funny title to boot. That track then became a bit of a 6 Music fave which helped elevate the band. We love those guys – they're such a positive and enthusiastic band, and we can't wait to hear their follow-up.
Who: Gnod
What: 'JUST SAY NO TO THE PSYCHO RIGHT​-​WING CAPITALIST FASCIST INDUSTRIAL DEATH MACHINE'
When: 2017
I know this is the second Gnod album on this list, but it was really one of the crowning points of a brilliant 2017 for us. It's just so immense, and more than anything, totally different from the last thing Gnod did. 'Dropout' was this swirling and almost meditative thing, whereas 'Just Say No…' is a bludgeon to the head. We love a group who can do both and still sound like themselves. This was one of those occasions where the album cover was basically already fully formed once Gnod gave us the title. Just the title. Bold type. Red and black. What else can you do with a statement like that?
Who: MIEN
What: 'MIEN'
When: 2018
We've been friends with Tom Furse from The Horrors for several years now. I think we got to know him from when I did a regular DJ night in Dalston. Tom sent us two tracks from this new project he was doing with Alex Maas from Black Angels, Rishi Dhir from Elephant Stone and JM Lapham from The Earlies, and he asked if we would be interested in releasing a single. We thought the tracks were great, but we wondered whether the as-yet unnamed group could put together an album. Just over a year and half later, they re-emerged as MIEN, and the self-titled album was finished, due for release in April this year. It's a perfect album of experimental psych pop with the adventurous feel of 'Pipers at the Gates of Dawn'. I love that you can tell the four of them are having a lot of fun, but that they're also willing to go out of their comfort zones. For us as a label, that's the most rewarding thing. 
Loud And Quiet needs your help
The COVID-19 crisis has cut off our advertising revenue stream, which is how we've always funded how we promoted new independent artists.
Now we must ask for your help.
If you enjoy our articles, photography and podcasts, please consider becoming a subscribing member. It works out to just £1 per week, to receive our next 6 issues, our 15-year anniversary zine, access to our digital editions, the L&Q brass pin, exclusive playlists, the L&Q bookmark and loads of other extras.