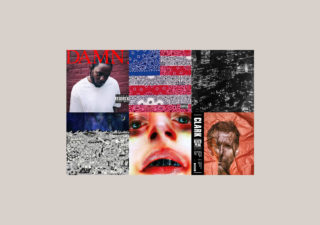 Have you noticed how the best 6 albums released in April are bloody dark?
Baby, it's shit outside
Anyone would think that it's a fucking nightmare out there at the moment. Y'know, because it is.
When Brexit happened and Trump followed, a lot of us music lovers tried to cling to a desperate raft of optimism – "Hey, maybe all of this will lead to some good music." Flimsy, I know, but God bless the human spirit, and it seems that we were right.
In the same month that Theresa May called a snap election for no other reason than self-preservation, as Trump proved that he really is dumb enough to know which one is the missile button, a crop of albums were released in April that were brilliant but dark. From Kendrick and Joey Bada$$ rapping about the ongoing history of racism in the US, to Timber Timbre's sleazy view of a dystopian society of "utter chaos and confusion" and Father John Misty's complete trolling of everything we've ballsed up, we can only presume that these records were conceived as our current blackhole was opening up in 2016.
Five or six months sounds about right in terms of getting a record out there. This could be the start of an avalanche of albums trying to make sense of it all.
---
Artist: Arca
Title: Arca
Label: XL
What is it? Alejandro Ghersi's third album; the first featuring him singing; songs so personal you can hear the tears on his cheeks.
L&Q says: "The Venezuelan's vocal levitate somewhere between Gregorian monk and Anohni's cathedral-filling trill."
Read Greg Cochrane's full review
---
Artist: Kendrick Lamar
Title: DAMN.
Label: Polydor
What is it? Kendrick's fourth record, and a complete swerve back to the straight rapping of his debut masterpiece 'Good Kid, M.A.A.D City'.
L&Q says: "Lamar spent three albums building a legend status just to show that he's as fragile as the rest of us. I'm not religious but 'DAMN.' is divine like little else."
Read Stephen Butchard's full review
---
Artist: Joey Bada$$
Title: All Amerikkkan Bada$$
Label: Cinematic Music Group
What is it? The Brooklyn rapper's second album, as politically and socially charged as the kkk suggests.
L&Q says: "This album also manages to convey an incredible sense of optimism: Of love and hope in the face of a bleak social and political landscape."
Read Katie Beswick's full review
---
Artist: Timber Timbre
Title: Sincerely, Future Pollution
Label: City Slang
What is it? The band's fourth and best record of weird, slow lounge music for a sleazy end of the world.
L&Q says: "'Sincerely, Future Pollution''s nine tracks have a deliciously inky, retro feel, like Nick Cave fronting a bitter '80s Vegas house band."
Read Derek Robertson's full review
---
Artist: Father John Misty
Title: Pure Comedy
Label: Bella Union
What is it? Josh Tillman's third FJM album; full or more misery than you can shake a burning bible at.
L&Q says: "'Pure Comedy' is a Black Mirror of a record, less 'Modern Life Is Rubbish', more, 'Modern Life is A Complete Waste Of Time'."
Read Stuart Stubbs' full review
---
Artist: Clark
Title: Death Peak
Label: Warp
What is it? Chris Clark's baffling album of ambient techno, house and noise that doesn't always need to make sense.
L&Q says: "That groove shouldn't be sitting there under that synth, but then where else would it go, and anywhere, how did we end up here?"
Read Luke Cartledge's full review
Please support Loud And Quiet if you can
If you're a fan of what we do, please consider subscribing to L&Q to help fund our support of new musicians and independent labels
You can make a big difference for a few pounds per month, and in return we'll send you our magazines, exclusive flexi discs, and other subscriber bonus bits and pieces
Try for a month and cancel anytime