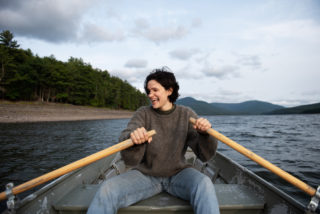 Adrianne Lenker is on the cover of Loud And Quiet 143
Here's what's in our new issue – out this weekend
Issue 143 of Loud And Quiet is our second since the pandemic hit, and Adrianne Lenker felt like the perfect choice for its cover feature. Aside from her work as the leading force of Big Thief, Lenker's curious and nomadic mind has made her a champion social distance-er, taking her into the wood for lockdown, where she built a studio in a single-room cabin and recorded two albums – one instrumental, the other not.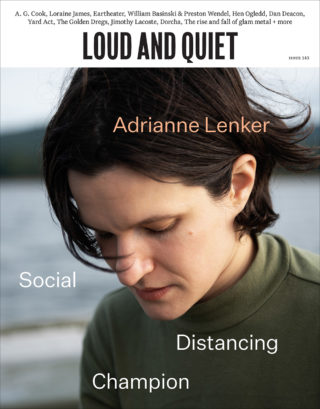 Lenker spoke to Tristan Gatward from upstate New York before she moved on again, but not before an exclusive shoot with C. Misha Handschumacher.
Other stories come from conversations we've had with Loraine James, Eartheater, Hen Ogledd, The Golden Dregs, Dorcha and Yard Act.
Also: William Basinski and Preston Wendel discussed their brilliant new project Sparkle Division, and PC Music genius A. G. Cook spoke to Skye Butchard for our Rates feature. 
Jimothy Lacoste tried to remember what it was like to be 16 (it was 5 years ago), Dan Deacon gave me a virtual tour of his studio over Zoom, Dafydd Jenkins mapped out the rise and fall of glam metal, and Fergal Kinney dived into the Twitter accounts that are dedicated to YouTube comments about music scenes.
There's also a cold take on the very silly launch of TIDAL, five years on, plus our reviews section and starter columns.
Out this weekend.
Order a copy or become a Loud And Quiet Member to get it direct to your door.
Free Protomartyr flexi disc with this month's magazine
Subscribers to Loud And Quiet now receive a limited edition flexi disc of a rare track with their copy of the magazine
This month's disc is from Detroit punk band Protomartyr