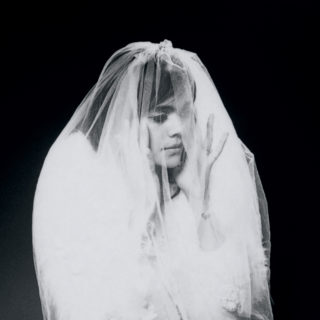 Bat For Lashes chooses 13 songs for her doomed wedding day
Natasha Khan will bring her latest, fourth album, 'The Bride', to End of the Road on September 3rd. There aren't any happy endings, though. Spoiler: her husband-to-be dies on his way to the church. Directly after Bat For Lashes' Saturday night headline set we're going to throw her a wedding reception all the same, at the festival's Pirate Ship stage. Don't look at it as insensitive opportunism; consider it effective consolation via the music of Simple Minds and David Bowie.
For now, here's Natasha's playlist for any bride going through the same trauma (god forbid), or, worse, anyone who has to attend another wedding alone this summer.
The Carpenters – We've Only Just Begun      
We've been covering this one live and we've turned it into a really sad, dark, really slow minor version. It's such a beautiful song that's so full of hope, idealism and naivety. It's just so high up there in terms of wishing something could be beautiful and all about the future. To me it has this slightly scary undertone of perfection always going wrong. Karen Carpenter's voice always breaks my heart. She talks about 'white lace and promises.' I thought it was a really great wedding song with a slight undertone of 'can it be this perfect?'
The Shangri-Las – Leader Of The Pack 
This whole album ('The Bride') has a story and there's a guy in the story… there's a song called 'Joe's Dream' where he had a vision where he's killed when he's riding a motorbike. I just love that whole thing when it's a story within a song. In the Shangri-Las song she talks about meeting this guy who her parents don't approve of. She's young and he's really bad, and then she breaks up with him and he drives away with tears glistening in his eyes, and there's the sound of a crash. I just love the melodrama of those girl-group songs in the '50s and '60s. I love that it starts off with this really hot guy that she meets and then at the end she says, "the leader of the pack isn't here anymore," or something like that, and he's not there anymore. He's died. I like the grim-ness of that.
Koko Taylor ­– Up In Flames (Wild At Heart)
I love this song because it's so dark and sleazy and evil. She's this woman scorned. I really like the idea of a widow – the Miss Haversham complex of being jilted at the alter. It's just so destructive and dark. I really like that dark, seething, witchy, widow aspect of women. She encapsulates it perfectly.
Chris Isaak – Wicked Game
It links to the album for me because of all the sounds of the tremolo guitar. Musically it's beautiful and his voice is amazing but also that deeply painful unrequited love. You can't help who you fall in love with; you can't control it. He doesn't want to fall in love but he has no control over it. Sometimes love that's doomed feels like that – you have no control over who you feel in love with. It's something you have to go through. I love the Lynch-y tremolo guitar – again that kind of '50s, Elvis sort of vibe.
The Cure – Pictures Of You
I think it's all about memories and nostalgia. It's just that classic thing. I used to play that when I was with my first boyfriend – my first love – and we would lie in bed listening to that. It's just such a teenage, angsty… just the Cure in general remind me of being a teenager. That sort of dark feeling. All my pictures of you – it just conjures up so much sweetness and sadness. It's all about the memories of someone.
Dinah Washington – This Bitter Earth 
It really strikes me this song – it makes me cry. It's just such a sort of crystalline, glacial… I imagine a couple dancing under really tatty, prom-queen dancehall lights. "What good is love that no one shares?" she sings. I think it's about that feeling of loneliness that every human being has. How tough, and how hard, and how raw it can be to be alive. Love is obviously one of the things that can be most painful. Her lamenting about if she can't get the game of love right then life isn't worth living. It's sad but I understand that premise; that desire to be loved and to not fuck it up and get by through this difficult thing called life.
PJ Harvey – Is That All There Is?
This has a similar feeling to 'This Bitter Earth'. It's like, let's all just get drunk because… fucking hell life is shit. It's definitely an end-of-the-night one – very, very drunk, let's keep on drinking because this is fucking harsh.
Womack and Womack – Teardrops 
Every flippin' family party they always play that. Or every '80s night, or every '90s night, or every wedding. It's just a classic. It's such a good floor-filler. It's kind of happy/sad. The lyrics are really sad but the music's just got that happy/sad bittersweet sound. It reminds me of my mum and all my aunties and uncles drunk at weddings. Nan's sitting in chairs drinking at the end of the night – kids under the tables. It's the family song. It's a good one; everyone knows it.  
The Rolling Stones – You Can't Always Get What You Want
I think it's self-explanatory, and it's a really good sing-along. I think that's something about weddings – really well known choruses that people can sing along to. And for me, that's something the old and the young ones can bond over. The sentiment of this track is great. You can't get what you want, but if you try sometimes you get what you need. For me, 'The Bride' album is all about that. She doesn't get the love of her life, which you thought was the man, but in the end it turns out to be herself. She learns to love herself and that's what she needed.
Chet Baker – I Get Along Without You Very Well  
It's just the most beautifully sang song that I've probably ever heard. I just love Chet Baker for how sad his music is. "I get along without you very well… of course I do," and then he describes all the ways he finds it hard to be able to get along. It's poignant and sad.
10cc – I'm Not In Love 
I feel exactly the same way about this song, but I love the kind of macho… This song has that macho thing of like, I don't really care about you and I punch you in the arm, but actually you're completely head over heels. It reminds me of Sofia Coppola films and '70s sun-kissed Californian kids at High School. There's something cheesy and brilliant about it. I love cheesy songs where guys are talking about trying to be macho but they're not. Nowadays those kind of songs are like Enrique Iglesias and really cheesy, but then it had that kind of cool tension where you still fancied the man.
Powermad – Absolute Power 
That comes from Wild At Heart, the David Lynch film. The scene where Sailor and Lula get out of their car and head bang. I think it's hysterical and I love the idea of there being a big fucked up wedding where all the old ladies are frightened and everyone's just losing their shit and head bangs really hard. I love a good head bang. Some really doom-filled heavy metal has to go on a doomed wedding playlist.
Calvin Harris feat. Rihanna – We Found Love 
I just love this song. We did a cover of it in a really sad way. When you listen to the words it's really fucked up what she's singing, but then it's a Calvin Harris banger, which I find hysterical. When I DJ that one out people do have a really good dance. It's that euphoric, but really fucked up and sad at the same time. The bitter sweetness that I like. I think it's towards the end of the night like. 'fuck it, we're drunk who cares?' Dishevelled bridesmaids who've snogged someone they wish they hadn't and people being sick on the wedding cake… that moment.
Please support Loud And Quiet if you can
If you're a fan of what we do, please consider subscribing to L&Q to help fund our support of new musicians and independent labels
You can make a big difference for a few pounds per month, and in return we'll send you our magazines, exclusive flexi discs, and other subscriber bonus bits and pieces
Try for a month and cancel anytime