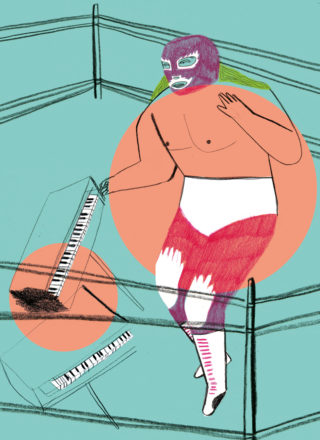 Anyone can play guitar. Even WWE wrestlers. Even Chris Jericho.
Are you not entertained?
Some of us (of a certain age, at least) would have spent many weekends descending on your friend-with-the-Sky-dish's house to get an essential, weekly fix of WWE Raw (or WWF, as it was). Here, amongst takeaway pizza and menthol cigarettes, we'd watch, inexplicably, giant, steroid-addled men in trunks play out a uniquely athletic, dramatic and regularly ridiculous soap opera that made Hollyoaks' storylines seem halfway plausible. Amidst household names like The Rock, Triple H, The Undertaker and Stone-Cold Steve Austin, Christopher Keith Irvine was a big deal. Better known by his ring name, Chris Jericho was a six-time world champion, a record nine-time Intercontinental Champion and the first undisputed WWF Champion after beating both The Rock and Stone-Cold in the same night.
Now, much of that probably means very little to you, and none of it qualifies Irvine for ACPG recognition, but when you form your cover band after a wrestling show and decide to call it Fozzy Osbourne, you have my attention.
After dropping the Osbourne handle to simply become the not-much-better Fozzy, Irvine's pivot from wrestling showman to hard rock frontman involved slightly more clothing but marginally less shouting. Evolving from the covers style on their first two albums into a full-blown, leather-clad homage to Guns N' Roses, Fozzy set about fulfilling every sex, drugs and rock 'n' roll cliché that's ever been played out.
Take 'Do You Wanna Start a War' (minus the question mark, obviously) with Irvine half rapping, half singing hard-hitting lyrics like "Throw your hands in the air / Now's the time to not care" in a box room bathed in red light before Playboy's Miss January 2001, Irina Voronina, leads a latex-clad troupe of dominatrix flight attendants in a synchronized salute. Or on the awful 'Sandpaper' – complete with green screen cabin fever video – where Irvine nails a killer impression of Jack Black impersonating Axl Rose as Avenged Sevenfold's M. Shadows appears on a black and white TV in the background.
Sure, the obvious tropes make Fozzy sound like the bloated, indulgent vanity project of a showman that couldn't quite let go but, let's face it, if you can't do it as a hard rock band, where can you? Either way, Irvine clearly doesn't care because he's too busy ticking off every overblown 'November Rain'-inspired excess he can think of, and their most recent single, 'Judas' (with a video featuring skanking clowns, confused-looking men on fire and scampering Blues Brothers midgets) has clocked almost 9 million Youtube views in the last few months—even if you discount the healthy click farm rate.
Ultimately, Fozzy's progression from a wrestler-fronted covers band to credible rock act can always be questioned but, in their case, the most pertinent one should be: are you not entertained?
Free Protomartyr flexi disc with this month's magazine
Subscribers to Loud And Quiet now receive a limited edition flexi disc of a rare track with their copy of the magazine
This month's disc is from Detroit punk band Protomartyr