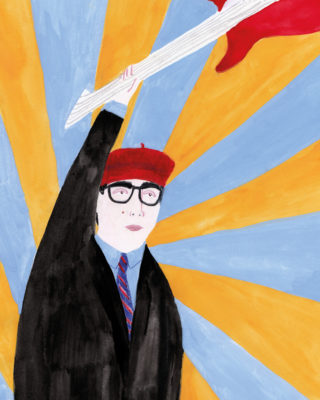 Jason Schwartzman's perfect music career comprised of one song that made T4 worth watching every Sunday
Anyone Can Play Guitar - a series about when celebrities give music a go
When your mother is Talia Shire, your uncle is Francis Ford Coppola, your cousin is Nicolas Cage and your grandfather happens to be an Oscar-winning composer, Hollywood doesn't look so difficult to navigate. But before Jason Francesco Schwartzman made his name as one of the silver-screen's go-to indie actors, he had the indie band to go with it. (Of course he did – this is Wes Anderson's safe pair of hands.)
As the drummer in Phantom Planet, a young Schwartzman split his time between the sticks and the screen through the mid-to-late '90s. Back then, the band caught the eye of Geffen Records and released their debut album 'Phantom Planet is Missing' in 1998, around the time Schwartzman was cast in Rushmore.
As the band's debut tanked almost as badly as the big label record industry, Phantom Planet shifted over to Epic Records, opened for Elvis Costello and wrote The O.C. theme song ('California') blasted out for all eternity on E4. Building off that momentum, world (or at least State) domination beckoned for the band as they went into record album number three – only for Schwartzman to quit midway through, presumably to focus on I Heart Huckabees. Without their erstwhile drummer, Phantom Planet would go on to do little else, but for Schwartzman it was the perfect opportunity to step out from behind the kit and into centre stage as Coconut Records.
So with Zach Braff muscling in on his full indie credentials with the immortalisation of The Shins in Garden State, and with Scott Pilgrim vs. the World, Moonrise Kingdom and The Grand Budapest Hotel mere glints in his eye, Schwartzman set about doing the best James Mercer/Elliot Smith/Weezer impression he could, releasing his debut solo album, 'Nighttiming', in 2007. An album of power pop, indie disco and West Coast charm, it proved his credentials as a musician and songwriter, even if it didn't get close to those heady 'California' days.
Undeterred, his second album, 'Davy', arrived two years later with a similar array of likeable tracks that played on a similar style to his debut. But with the apex of his acting career on the horizon, it was left to the jaunty, Beatles-aping 'Drummer' where Schwartzman delivered the line (and coup de grace) of his music career, singing "I was a drummer in a band that you've heard of." Something few in the Anyone Can Play Guitar Hall of Fame can truthfully say.
We're not being funny...
… but can you become a member please?
It's actually excellent value, and will help us continue to promote new independent artists and labels.
Sign up and you'll receive our physical magazines delivered to your door, our digital editions, exclusive podcasts and playlists and an actual bookmark, as if printing a magazine in 2021 wasn't old fashioned enough.
6-month and full year memberships are available now. Fancy it?