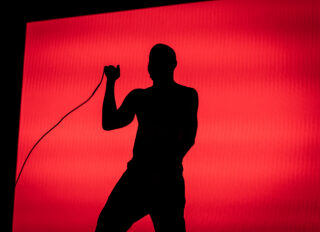 Death Grips live at Primavera Sound: a closing blast of raw power
Even heavier than Eurovision
Death Grips are late because that silly Eurovision band Måneskin overrun and encourage a stage invasion at the end of their set a few hundred metres away. Which is just a funny sentence really. Anyway, after seeming like they might just get started regardless, causing an even funnier sound clash, MC Ride, Zach Hill and Andy Morin eventually stalk onstage silhouetted against a sheer red backdrop, and they waste no time. Peals of noise and juddering rhythm almost flatten an absolutely knackered 2am-on-night-three crowd, before everyone recalibrates and finds their last reserve of energy. So far, this has been Primavera 2023's most joyous, pop-focused night, with Rosalía and Calvin Harris topping the bill and an inclusive atmosphere permeating the festival site; yet for a furious forty minutes or so at the Parc Del Forum's central Ron Brugal stage, it's kicking off.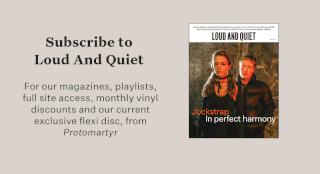 The hits (physical, not commercial) come thick and fast. 'Hustle Bones' is a screwfaced statement of malign intent; the flailing synth line of 'I've Seen Footage' collapses over us like a rotten highrise mid-demolition; 'Get Got' stutters and grinds expertly, the blinding synth loops shearing off the grunting low end like sparks. There are no gaps, no between-song chat, little to suggest that Death Grips are here to do anything other than stomp a few heads and skulk off into the night. 
It's a raw, unfiltered set, thrown out across the Catalan seafront in lumps and shrapnel. Hill's drumming pushes and pulls on the tempo, his grooves sounding pissed off to be restrained by the precision of Morin's programming. Throughout it all, Ride is relentless, a writhing, demonic presence dragging us along mercilessly. This is part of their first tour since 2019, and in the best way, it shows: they've got the same potency as ever and the machine is well-oiled, but there's a feeling that it could career off-road at any minute.
Before long, Death Grips are firing through 'Giving Bad People Good Ideas', 'Anne Bonny' and a closing blast of 'The Fever (Aye Aye)' and then they're gone, having played the most punishing set of the weekend. They might even have the edge on Måneskin.
Photography by Sergio Albert