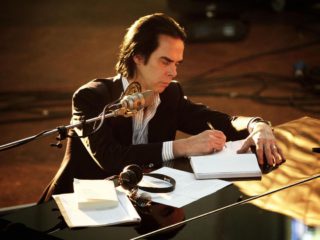 Dig into the darkness – A comprehensive album-by-album guide to Nick Cave & The Bad Seeds
The release of their 16th studio album 'Skeleton Key' is imminent, Daniel Dylan Wray provides all of the essential background.
On Friday 9 September Nick Cave & the Bad Seeds will release their 16th studio album, 'Skeleton Tree'. As with many revered and acclaimed groups with an extensive back catalogue – especially someone as canonized and mythologised as Nick Cave – it can be a daunting proposition to dive into those records and know where to start or what to expect. With that in mind, ahead of the new album release, here is an album-by-album guide to the studio output of the Bad Seeds – a primarily Australian group who formed in the ashes of Nick Cave's previous band The Birthday Party and released their debut album in 1984.
There are a great number of misconceptions and false attributes to the music and lyrics of Nick Cave, him being some humourless, blood-thirsty, sex-crazed goth overlord being the primary one (there are certainly narrative and character explorations of these aplenty but the opposite side of those areas are explored just as frequently). Another one is perhaps overlooking the crucial importance of Cave's ability to align himself with supreme talent and collaborators – i.e the Bad Seeds. People may adore Cave to votary-like levels but the Bad Seeds require equal devotion and adoration, their input to the group over the years is far from secondary and should be considered just as crucial. However, given that an entire book could be written on the biblical references and metaphors of Nick Cave's lyrics alone, this is not intended to be an in-depth analysis or extensive critical reappraisal of the group and its history – more a rough guide for those wishing to dive a little deeper into the beautiful darkness.
From Her to Eternity (1984)
After the messy dissolution of the Birthday Party, the Bad Seeds (named after the Birthday Party's 1983 EP, The Bad Seed) were very quickly born, a thrown together mutation that clung onto some of the Birthday Party's past, whilst also kicking other parts of it to death on a kerb down a back street. Their debut album feels like a statement of intent, one keen on shedding the comic goth persona unwantedly thrown on The Birthday Party. There's no screeching tales of bats or clattering junkyard blues opening this record, instead it begins with a metamorphosed Leonard Cohen cover of 'Avalanche' with a whispering and hissing Cave, slow menacing bass lines and Blixa Bargeld's scratchy guitar creating an atmosphere akin to the brewing of a storm.
The album moves from moments of icy atmosphere, jittery piano lines, atonal screeches and disjointed rhythms to more simple and structured explorations in song craft, absent from the original release but those in possession of the CD reissue will hear the remarkably straight-up Elvis cover of 'In The Ghetto', a track Cave was near obsessed with at the time. The album is scattered with moments of brilliance and unwinding innovation throughout whilst at times it feels like a group settling into a new, yet undecided, groove.
It is however the title track that retains the most potency thirty-plus years down the line, the piano strikes sound murderous as the band crashes around Cave's strained vocals like a enveloping firestorm, it broods and unfolds with an almost maniacal tension, simultaneously sounding like construction and deconstruction harmoniously meeting at one juncture. It's also notable that this is the only song on the album in which all band members have a writing credit, as each person is put perfectly and astutely to use during this song, every note as vital as it is perturbing.
The Firstborn is Dead (1985)
Despite being recorded in Hansa Studios during a still-divided Berlin, 'The Firstborn is Dead' is an album entrenched in the American South: set in god-fearing towns where the blues is played on backyard porches, in the swamps of the Mississippi, the birthplace of Elvis, the rolling valleys and hills that steam trains blow through and in the dust-swept lands that connect so many of them.
The opening bellow of 'Tupelo' remains an album pinnacle, Mick Harvey's drumming hammering like the thunder that leads to the flood howled about in the song (a loose reworking of a John Lee Hooker number). Another highlight comes via the reworking of Johnny Cash and Bob Dylan's 'Wanted Man', which traverses across states, the musical abandon and itchy tension matching the fleeing tale of the protagonist. At it's core the Firstborn is Dead is a blues record or at least as close as the Bad Seeds care to get to a singular genre exploration and so it becomes sort of twisted gothic blues, it's 1950s America envisioned through the 1980s mind of Nick Cave, which turns out to be something akin to a gospel record made on smack.
Kicking Against the Pricks (1986)
A straight-up album of covers deeply rooted in blues and country, although even taking on The Velvet Underground's 'All Tomorrow's Parties' alongside staples like 'Hey Joe'. It's an album that could be seen to be misdirection, another side-step intended to trip up those still getting a little stuck in the 'goth band' mind-set, yet it's also an album that – by allowing the group to explore the songs of others and all the various structures and set-ups these songs inhabit – paradoxically, brought out a more coherent and developed band in the Bad Seeds.
They formulated some of their most longstanding and idiosyncratic musical traits on this album, seemingly through the exploration other people's material. Cave's voice has deepened by this point, a dense richness prevails during a lot of songs with his inner Elvis appearing less in devil form and in more of a purer state. Whilst his vocals are still capable of – and often do display – a shriek and a wail, it feels like Cave allowed himself to explore his crooning desires through the safety of other people's songs.
The album also sees the brief re-emergence of Rowland S. Howard, The Birthday Party's inimitable guitar player, whose electrifying and otherworldly tones tease and spark quietly through 'By the Time I Get to Phoenix'
Your Funeral…My Trail (1986)
Released just months after 'Kicking Against the Pricks' and a little over a year since 'The Firstborn is Dead', this marks a particularly fertile and evolutionary period for the band and Cave, despite the fact that the latter was going through a newfound depth of heroin use.
The double tracked vocals that open the melancholy crunch of 'Sad Waters' – whilst not the first time this tactic is employed by the band – marks a stylistic trait that will come to define a great deal of Cave's singing and the Bad Seeds' studio practices over the next decade. 'The Carny' remains a singular moment in the career of the Bad Seeds and of this album (those who have seen Wim Wnders' 1987 Wings of Desire will have seen the band perform this song in one scene) with it's manic unfolding of a carnival nightmare put to record, the track swells and spins, moving in woozy whooshes like an out of control waltzer.
The craft and structure of the title song are sublime, blending a foggy blackness driven by a pouncing, almost predatory bass line with a sweet, drifting organ and a strong, poised vocal take. 'Stranger Than Kindness' also marks another track that, stylistically, has come to define a certain type of Bad Seeds sound or song.
It's an album the melds the softer, more melancholy, nodding-off grog with nastier more ferocious and snarling moments, the seething brutality of 'Hard on for Love' charging with the force and might of a battalion in full procession. This is an album that feels like the moment the Bad Seeds fully form and bloom into their own beautifully grotesque flower – the Birthday Party feel like a long forgotten memory by this point and the evolution over the previous three albums result in one of the finest moments in their entire catalogue.
Tender Prey (1988)
'Tender Prey' is the last of the Bad Seeds' Berlin period and it was a period that, once again, saw new levels of Cave's spiralling heroin use, almost to a point that it began to interfere with the band's ability to function properly and record. Cave would later reflect on the record as being "a nightmare". Although, if this was the sound of a band struggling to keep it together with a singer deep in drug addiction whilst also spending a lot of time writing his debut novel (And the Ass Saw the Angel) and starring in a film (Ghosts of the Civil Dead) then it's a glorious disaster.
The first side of the album is the Bad Seeds as compelling as ever, particularly with the opening and superlative 'The Mercy Seat' (later covered by Johnny Cash) a seven-minute pearl that recounts the thoughts and story of a man as he is about to be executed by electric chair, it trounces ever-forward lavish in biblical references.
The tale unravels atop of jittery piano stabs and all propulsive marching-into-the-fire drums as Cave spits the words of an unrepentant protagonist with menacing fury. Momentum dips somewhat on the second side but for an album that felt like it could have collapsed under the strain of its own creative process, it's a remarkable feat and golden nugget in the catalogue.
The Good Son (1990)
Relocated to Brazil, a newly sober and in love Cave remerged for this record and with it came a tone of optimism and a notably less dark, burrowing and festering musical-leaning. At it's essence it's a very song and piano-based record, ballad-like at times, if the Bad Seeds' Berlin period was them playing in the dark, then the sunshine of Sao Paulo is certainly captured in this record.
Initially seen as something of a disappointment to those who would happily have Cave play the shrieking dark overlord forever, 'The Good Son' is actually a milestone in the Bad Seeds' career that will again come to define one of the group's most lasting traits of song craft. Here Cave cements his relationship with the piano as an instrument, it's used less as an instrument to jab, poke and torture and more to caress and explore. The album is actually riddled with exemplarily moments, as found in the title track, 'Sorrow's Child', 'The Weeping Song' and 'The Ship Song' the latter of which being perhaps Cave's most effective use of double tracked vocals.
Henry's Dream (1992)
For this album the band brought in David Briggs on production, a producer famed for his extensive, and excellent, work with Neil Young but they soon butted heads and his stylistic and sonic approach was deemed unsatisfactory by Cave and Mick Harvey, who then remixed great chunks of the album.
It is Harvey's rhythm guitar, specifically on the acoustic, that drives a great deal of this record. Whilst never feeling like a straight-up acoustic record it's presence is omnipresent and it's a masterful contribution from Harvey who gives a restless, urging propulsive drive to the record often matched by the biting snarl of Cave's driving delivery which spits and spews as fluidly as it croons and rolls, from the opening song, 'Papa Won't Leave You, Henry', there's talk of "wet-lipped women with greasy fists" and "lynch-mobs, death squads, babies being born without brains".
The album is littered with tracks that have stood up to permanence in the band's collection such as 'I Had a Dream, Joe', 'Straight to You' and 'Jack the Ripper'. It's an album that carries with it an energy and intoxicating fizz from the opening guitar strums to the dying ones and is one of the most complete and cohesive records in the band's oeuvre.
Let Love In (1994)
If you've never heard Nick Cave & the Bad Seeds and want to start with just one record, this is a solid starting place.
It's a record that succeeds in balancing the most potent and successful traits of the Bad Seeds spread out across one record; it howls with pain in battered and bloodied ferocity in some parts, it broods in the darkness of the corner of the room in others whilst it floats in delicate beauty and rich harmonies in others. It is home to arguably the group's most well known track in 'Red Right Hand' but in the context of the record it doesn't feel so much a stand out moment as it does part of the oozing molten lava that runs through the entirety of it. It's a pivotal record for the Bad Seeds in many senses but one crucial point is that it sees the introduction of Warren Ellis, someone who goes on to play on every single Bad Seeds record afterwards and arguably forge a partnership with Cave that over the years will replace that of his with Mick Harvey.
Texturally the album is deeply rich and multifarious, from the self-depreciating piano swing of 'Nobody's Baby Now' to the haggard runaway blues jam of 'Thirsty Dog' and the gloriously layered 'Lay Me Low', which is debatably one of the Bad Seeds most overlooked songs over the years, the see-saw backing vocals of what feels like a death lullaby rock you back and forth as Cave moves from whispering crooner beginnings of the song to the end in which he writhes and twists.
The bookending of 'Do You Love Me?' and 'Do You Love Me?, Pt 2' is something of a masterstroke, cementing album as truly complete piece of work. On the cover of this album Cave stands shirtless with a blurry red mist behind him as he stares fixedly to the ceiling or whatever is above him. If this is an image of Nick Cave in the pits of hell with his eyes firmly locked on what upstairs may look like then the record does an apt job of catching that middle ground too.
Murder Ballads (1996)
It's strange to think that an album that contains the lyrics "I'm a bad motherfucker, don't you know?" and "I'll crawl over fifty good pussies just to get to one fat boy's asshole" would eventually be certified Gold in the UK but only in the world of Nick Cave & the Bad Seeds could an album made up entirely of deathly tales (as the album titles suggests it is a collection of literal murder ballads) that it became their most successful record.
This is because it coincided around the time in which Cave did a duet with fellow Australian Kylie Minogue on the genuinely excellent – and award-winning – 'Where the Wild Roses Go'. The MTV airplay that it got even earned Cave an MTV Award nomination for Best Male Artist, which he swiftly shot down with an excellent rejection letter. The album is strewn with guests and collaborations; by this point Cave had begun a relationship with PJ Harvey and she features most prominently on the profoundly beautiful 'Henry Lee', whilst she also appears alongside Kylie, Shane McGowan and Cave's ex Anita Lane on the closing 'Death is Not the End'. At times there is a fierce brutality to the violence on the record, as on the near 15minute 'O'Malley's Bar', which tells of a bloody bar murder but the narrative unfolds like a man in holding court in a bar, recalling a bloody tale of mythical proportion, recalling the murder with grizzly, primitive lucidity, perhaps even claiming to have survived the slaughter himself – "and with an ashtray as big as a fucking big brick I split his head in half".
It's unsurprising to learn that Cave and film director John Hillcoat (The Road, The Proposition) apparently had plans to turn it into a film for a brief period. The centrepiece of the album is 'Stagger Lee' however, a twist on the original folk ballad that dates back to a tale from the 1800s and a recording as early as 1923. While the 1928 version by Mississippi John Hurt is regarded as the definitive, Cave and co. take the gentle guitar picks and talks of a "bad man" into something that sounds like the apocalypse unfolding in a bar called The Bucket of Blood. It erupts into a wailing cacophony of screeching head-crush putrid noise that could only be the singular sound of Blixa Bargeld's screaming lungs, when combined with the rest of the band at their most furious it creates one of the finest songs from one of the finest albums the Bad Seeds have ever done.
The Boatman's Call (1997)
By this stage Cave had done biblical explorations, gothic southern, tar-black humour and the holy trio of sex, lust and death to exemplarily levels and variations but there'd always been a slight indication he was willing to reveal more but on this record rather than allow people to continue to try and peek in through the window, he kicked the front door down and just let people stroll in.
It's a record that deals with loss, obsession, confusion, anger and existential dread, almost entirely driven by sparse piano parts and beautifully gentle backing by the Bad Seeds that are equal parts fragile and lugubrious. Often seen to be solo album due to the stark, minimal, piano-led and introspective nature of it, it's certainly Cave's songs and guts spilling flowingly at the core of it but the Bad Seeds display as much power, grace, depth and quiet fury on this album as when they set their tone to foundation-shaking noise monsters.
This is the record in which the whole band – Cave included – reach the absolute peak of their powers as a group because they arrive at the stage in which they have fundamentally mastered all of their output and praxis, at this stage the Nick Cave & the Bad Seeds can write some of the most stunning piano ballads ever written or plunge you head first into dirt swamps and the fiery openings of hell – at this stage it felt like they had everything at their disposal as and when they needed it. Despite being an album of staggering beauty glazed warmly in love and affection it still manages to squeeze in a line about a "twinkling cunt" which Cave once claimed was inspired by Tori Amos and her alleged practice of putting glitter into her pubic hair. It's a flawless record.
No More Shall We Part (2001)
Up until this album the longest anybody had had to wait for a new Bad Seeds album was two-years, with the band putting out a rather staggering 10 studio albums in 13 years. However, this was a four-year gap from the Boatman's Call as Cave tried once more to put heroin and alcohol to bed for good after a heavy relapse. He was successful and the resulting album is a bit of an overlooked jewel in the Bad Seeds crown, initially it can be absorbed as a bit of a mid-to-slow-tempo chug but it displays some extraordinary depth once you plunge into the oceanic nadirs of the album.
It's largely piano-led once more but the Bad Seeds are livelier here and more present in tempo, it's particularly notable for Warren Ellis coming more to the forefront as his name begins to appearing in the writing credits and some of his playing is so singular and distinctive he defines great chunks of the album, such as on 'Hallelujah' in which his violin just purrs and wails and cries perfectly.
Lyrically, the blood, guts, angst and grot of some of the yonder years stuff is replaced by intricate, ironic and razor-sharp black-wit narrative holes. 'Love Letter' is a song as beautiful as anything on The Boatman's Call and the rousing single of 'Fifteen Feet of Pure White Snow' created one of the greatest music videos of all time that includes a dancing Blixa Bargeld getting down with Jarvis Cocker alongside Jason Donavon who looks like he may have indeed consumed fifteen feet's worth of pure white snow before the camera's were switched on.
Nocturama (2003)
The only album in the band's entire output that comes close to being a bit of a dud. The opening 'Wonderful Life' follows the piano-led groove of the previous album and Martin Casey's bass runs up and down sultrily atop of Bargeld's atmospheric guitar fills, it's not evolution per-se but it carries the momentum. Things get a little plodding along the way and the – although admittedly very catchy – 'Bring it On' gets a bit fist-pumpy mediocre alt-rock with the joint vocals of The Saints' Chris Bailey, even at his most quiet and reserved Cave and the Bad Seeds have bite and grimace but things somehow feel sterile here at times, even the rollicking 'Dead Man in My Bed' feels like something that would have ben cut from the Let Love In sessions.
The closing fifteen minute 'Babe, I'm on Fire' is a brief moments of restlessness in an album otherwise stuck in a gentle rocking motion. There are moments that get nice and messy and noisy with Ellis' violin sounding like it's been put through a wood chipper atop of a manic Hammond organ whizzing and jumping along with Cave in humours form, lyrically, barely even unable to keep up with the speed of which he spits out the words. It's not a bad album but it is the Bad Seeds at their most pedestrian and that's not a trait one has come to expect with the band. Perhaps coincidentally, perhaps not, Blixa Bargeld left the band soon after.
Abattoir Blues / Lyre of Orpheus (2004)
Blixa Bargeld's departure allowed Cave & co. to go to places that he would not have allowed or actively participated in. The Steve Harley & Cockney Rebel-indebted 'There She Goes My Beautiful World' with it's feel-good soaring choral backing vocals, Cave pointed out as something they couldn't have done before but the result is a fizzling success and one of Cave's lyrical acme's.
The double album was ostensibly split between a loud and a quiet side with drumming duties being split on each record between Jim Sclavunos (Abattoir Blues) and Thomas Wylder (The Lyre of Orpheus). The album moves between moments of explosive sun-bursting-through-the-clouds moments and those of tender isolation and it's a record that feels like all aspects of the band are being pushed and toyed with: glorious piano stabs and twisted organs dance around Abattoir Blues with creeping, shuffling and buzzing guitar lines. Cave's voice sounds particularly excellent under Nick Launey's production here, accentuating the atonal snarl when needed and allowing the richness to flow like the bubbling brook of a stream he so delicately sings about in the stunning 'Breathless'. Despite losing the inimitable and ghostly atmospheric wail of Blixa Bargeld's guitar work, Mick Harvey's playing leaps to the forefront on this record and it's a crucial characteristic that very much feels like a band being re-born than suffering a tragic death.
It's an album loaded with punch and, despite some lyrical paradoxes, feels brimming with optimism and in a disposition of the sunny variety. The majesty at the core of this album is the sense of expansiveness it projects however. It could almost be an erratic album at times with it switching between moods and tones so frequently but thoughtful sequencing and an underlying sonic coherence meld to make it an invigorating listen across it's sprawling length. It clearly captures a spark and spunk felt in the band at the time as all 17 songs were recorded in just 12 days. This is certainly one of the most directly accessible Bad Seeds albums but it doesn't feel in anyway diluted by being so.
Dig Lazarus Dig!!! (2008)
The first album released since some of the Bad Seeds formed the garage-blues-rock side-project of Grinderman (who put out their debut album in 2007) and the tone, energy and grizzled guts of that project can be felt in much of this album, especially the opening title track. Although it's actually some of the groggier, downbeat, swampy grooves that have the most longevity from this album. The delightfully sideways clang of 'Night of the Lotus Eaters' or the elongated strut of 'More News from Nowhere' often show up the more straight-up rock efforts like 'Midnight Man', although the hilarious and propulsive chug of 'We Call Upon the Author' is an example of the noisy and spluttering assault still hitting hard, the weird twitching electronics and glitchy drum patterns that sputter away in the background make for some of the most pleasing sonic experimentations.
In many ways it feels like an album in which the Bad Seeds had used up all their avenues but it still manages to slip down a few new ones and an on-going sense of evolution and progression feels palpable on the record, with the line from 'Jesus of the Moon' "People often talk about being scared of change / but for me I'm more afraid of things staying the same / because the game is never won by standing in any one place for too long" could be seen to be a wholly emblematic line that captures the band's entire existence and methodology to date. Mick Harvey left the band after this album, leaving Nick Cave as the only original member of the band.
Push the Sky Away (2013)
A five-year gap between this album and the last and by the time it arrived the sleazy moustache menace of Grinderman felt like a far away memory as the delicate shuffle of the lead single 'We No Who U R' landed with it's sparse drum tick, floating flute line and spectral presence.
Once again the Bad Seeds sound like an entirely new band on this album and much like The Boatman's call, a great deal of the success in the band's approach lay in their restraint and tact. Barry Adamson also returns on this album for a few tracks before becoming a full time touring member afterwards. There's a quiet, murky almost desolateness to a great deal of the record, one that feels contemplative and reflective with a focus on space and swirling masses of texture. Often Warren Ellis feels like he existis in the record as an entity, his trace perpetually floating throughout the record, glowing with a wild transparent hum. It's a lean record and again Nick Launy's production simply glows in all the right places. 'Jubilee Street' is the first time in which the album ever goes anywhere near cacophonic as it builds and bubbles slowly, a transformation taking shape.
The closing title track sounds befitting of a band saying goodbye for good, it's gentle humming and thick atmosphere hanging like a moorland fog, it's the sort of track that just fades and disappears, dissolving into an unknown place and ultimately that unknown place is, and always has been, the next Nick Cave & the Bad Seeds record. An evolutionary step that is now impossible to predict.
Loud And Quiet needs your help
The COVID-19 crisis has cut off our advertising revenue stream, which is how we've always funded how we promoted new independent artists.
Now we must ask for your help.
If you enjoy our articles, photography and podcasts, please consider becoming a subscribing member. It works out to just £1 per week, to receive our next 6 issues, our 15-year anniversary zine, access to our digital editions, the L&Q brass pin, exclusive playlists, the L&Q bookmark and loads of other extras.