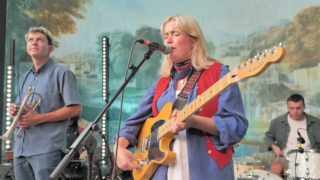 End of the Road 2020: In the Garden of Streaming
It wasn't the real thing, but it was very good
Gestures of goodwill have never been so valuable. When the pandemic forced the 15th edition of End of the Road Festival to be postponed until 2021, the pain was real but it was just another note in this summer's symphony of dread and cancellations. With the dramatic changes to life all around us, perhaps few people would have noticed if there had been no more news from the EOTR team until the new year, but that's just not the Larmer Tree festival's way.
On what would have been the final night of their 2020 outing, the organisers presented a beautiful, handcrafted gift for anyone who might have needed it. Streamed live on the festival's website on a pay-what-you-want basis, they unveiled a four hour EOTR-in-miniature; a whistle-stop guide through the festival's essences.
Titled In the Garden of Streaming, it evoked that woozy, scrambled sense of wandering from one state of mind to another as you move around the festival site, encountering mini-events that you didn't know were happening. Footage of some of the site's familiar imagery – something as simple as a cider bus or a sign pointing you to the woods – at first brought stinging pangs of longing, but as events unfolded and the live chat became more and more populated with the EOTR hardcores, that gently gave way to a warmer nostalgic glow.
We watched festival artist Dan Jamieson pop up with drawing classes, scribbling along live as he interviewed the artists on the bill, friendly chats and bespoke music keeping the mood convivial, before heading to the bar. But the bar walk takes us past the Piano Stage, where it just so happens that Courtney Barnett is doing an In Conversation, so we pop ourselves down for a few minutes to listen in, asking a question about her karaoke staple (it's 'Total Eclipse of the Heart', obviously). On the way back from the bar, Moses Sumney has assumed control of the Piano Stage and is performing a virtuosic, elastic version of Bjork's 'Come to Me', lost in his own reverie as he perches on the back of a battered old armchair.
Of course, all of these things are just happening on a screen, but the sense of being there seems real. The Sumney and Barnett clips are from the festival's archives, but much of the four hours of material is new, specifically curated for this streaming event. EOTR proves that its expert talent-spotting eye is as sharp as ever by the inclusion of a set from London quartet Modern Woman, a band whose hype is so fresh that they are yet to release a single. The group play a fizzing set of warped and chipped post-punk nuggets, everything slightly askew. Frontwoman Sophie Harris slips frequently from singing mode to speaking mode mid track, because that's her choice. Distant applause meets the end of each track in the 25 minute set (from the few stage hands and crew in attendance), but a greater clamour lies ahead for them.
In the Garden of Streaming also makes good use of the eclectic nature of the Larmer Tree site. Benjamin Woods, the baritone-lunged troubadour behind The Golden Dregs, performs a solo version of 'Pathos' aboard the abandoned Disco Ship, invoking the spirit of Stuart A. Staples and Bill Callahan, whilst Katy J Pearson pops up unannounced in the woods, just acoustic guitar and mic in tow, with a stunning version of 'Return' from her forthcoming debut album. Moments like these show that it's the secrets of a festival that you happen across that are the most treasured memories, the unplanned and unplannable instances of serendipity and wonder.
Alternative jukebox favourites fill the spaces between the various artists' sets, in much the same way that wafts of familiar sounds float through the air from hipster pie stalls and tinny camping speakers. The kooky Singing Stage that sits mostly unused alongside the Garden Stage in normal years (aside from its trademark silent disco) becomes the headline venue for 2020, housing the biggest sets of the night. Billy Nomates, the DIY punk provocateur whose debut album came out during lockdown, blazes with her one-woman show, scowling, writhing, controlling and conducting her songs of class struggle and political revolt with a performance art style that concentrates the message. The tracks are pre-programmed, leaving Billy free to draw on a range of moves that land somewhere between Jarvis Cocker and John Lydon. It is an eye-popping set, a sign that the streaming gig artform may be regenerating and evolving before our eyes.
Last year, Squid were THE buzz band of EOTR, playing three sets including one in a ludicrously over-stuffed Big Top Stage. Since then they have signed with Warp and have used the lockdown period to record their debut album. They now virtually headline with a confident performance that climaxes with an interpolation of Steve Reich's 'Clapping Music', using lyrics taken from a Reich interview about the piece and with cowbell playing that deliberately falls out of phase in a wry nod to the minimalism heads out there. Further still into the wilderness, a series of improvisational pieces from drummers Kwake Bass and Black Midi's Morgan Simpson provide the thickest, headiest trip of the night, the early hours fog descending on the brain, psychedelic visuals pairing with trance rhythms to give that "did that actually happen?" morning flashback.
There is no point pretending that any virtual streaming experience will ever be a truly satisfying analogue of the full fat festival experience. Save for the live chat box to the side of the browser, In the Garden of Streaming is no more communal an experience than any other of the countless screen watching exercises that we've been perfecting all year. Those initial stings of pain as we saw familiar images of happier times had a Proustian mournfulness to begin with that was hard to shake. But the evening's experience as a whole acted as a microcosm for the pandemic year in general: eventually, there comes a moment when the early heartache of being denied your old comforts has to give way to a more pragmatic resolve to realign your priorities and appreciate what remains. There was no need for anything to remain of End of the Road at all this year, and yet here, as the result of a disproportionate amount of hard work and care, is a genuinely heartwarming experience. Several commenters in that chatroom admitted to wiping away a tear as the stream played out on a montage of highlights from previous years' festivals.
This endeavour, after all, has been an exercise in remembering the best of festival going; a celebration of all that we had made routine and all that we will return to. And yet, the single most arresting image of the evening was something far more modest; a fleeting and innocuous moment. During an airing of Jeff Tweedy's surprise acoustic performance of 'Let's Go Rain' from 2018, the camera casually panned to the crowd of fifty or so in attendance, all sitting in a tight group, beaming away. The joy that animated those faces might have come from Tweedy's self-deprecating introduction to the song, or perhaps from their love for the song itself; maybe it was a beery glow that lit up those faces, or it was the culmination of all the positive experiences of their festival so far. What it wasn't derived from, though, was the mere fact that they were in the middle of sharing a special moment, shoulder-to-shoulder with a group of total strangers, because of course it had never occurred to them to be happy about something so simple. That will be different in 2021.
Please support Loud And Quiet if you can
If you're a fan of what we do, please consider subscribing to L&Q to help fund our support of new musicians and independent labels
You can make a big difference for a few pounds per month, and in return we'll send you our magazines, exclusive flexi discs, and other subscriber bonus bits and pieces
Try for a month and cancel anytime