Fontaines D.C. are on the cover Loud And Quiet 135 – order now
Back to the better land
A few weeks ago Fontaines D.C. played the Jimmy Fallon show in the US. It's not the kind of thing that happens to bands like theirs, except for the time Eagulls played Letterman (another punk band on Brooklyn indie Partisan Records – shout out to their T.V. plugger). But it's rare.
Fontaines having been flying this year, since the release of debut album Dogrel in April. As they finally returned to Dublin – the hometown that plays the lead role in Dogrel – Tristan Gatward and Tom Porter went to meet them there to see what's changed, at home and within the band, and what happens now.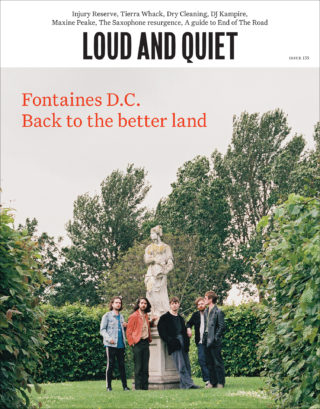 Also in this month's issue of the magazine (in stores from June 26 – order it here) are this lot:
Dry Cleaning: the London band making fraught spoken word post-punk from YouTube comments and the Royal Family.
DJ Kampire: the Ugandan DJ creating safe spaces for women and the LGBTQI community in a notoriously homophobic country.
Maxine Peake: the actor who in July becomes Nico for the Manchester International Festival.
Injury Reserve: the Arizona rap trio who refuse to make the same song twice.
Tierra Whack: the Philly rapper who found confidence in poetry and releasing an album of 1-minute-long songs.
Now, there's also our guide to End of The Road festival in this issue, which we've put a lot of work into. Maybe more work than it appears once you see it. But know that it took a lot of time, ok? It's important that you know that.
Add to that, our big review of Primavera Sound 2019 which took place earlier this month.
Stuart also spoke to Adam Green about how by the time he was 16 he'd already been in the Moldy Peaches for 4 years. And Daniel Dylan Wray went on a brass odyssey to look into why everyones playing the saxophone these days.
Order a copy here, become a subscriber or find a copy from Wednesday.
Support Loud And Quiet from £3 per month and we'll post you our next 9 magazines
As all of us are constantly reminded, it's getting harder for independent publishers to stay in business, which applies to Loud And Quiet more now than ever, 14 years after we first started printing a magazine that we've always given away for free.
Having thought about the best way to support our running costs (the printing and distribution fees, the podcast and production costs etc.) we'd like to ask our readers who really enjoy what we do to subscribe to our next 9 issues over the next 12 months. The cheapest we can afford to do this for works out at £3 per month for UK subscribers, charged yearly.
If that seems like a bit of a punt, you can pay-as-you-go for £4 per month and cancel any time you like. European and world plans are available too, at the lowest rate we can afford.
It's not just a donation – you'll receive a physical copy of our magazine through your door and some extra perks detailed on our subscribe page. Digital subscriptions are available worldwide for £15 per year. We hope you consider this a good deal and the best way to keep Loud And Quiet in your life without its content, independence or existence suffering.