Jarvis Cocker is on the cover of Loud And Quiet 84 – out now
Also in the magazine: Vagabon, Wire, Reykjavíkurdætur, Marika Hackman and more
I grew up watching Jarvis Cocker on Top of The Pops and trolling Michael Jackson. He always seemed like the only person in the '90s who was aware of how ridiculous it all was in real time.
This month I met him for the cover feature of Loud And Quiet 84 (in stores this weekend).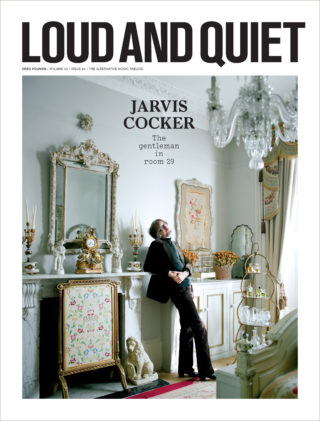 What we spoke about was 'Room 29', a new album and stage show project of his and Canadian pianist Chilly Gonazales, inspired by the Golden Age of
Hollywood, and the Chateau Marmont hotel that was often the centre of it all. At one point I asked him if he believes in ghosts. "I'd shit myself if I saw one," he said. It was a pretty great day, for me.
While that was going on, Katie Beswick was in Iceland to meet 15-strong female hip-hop group Reykjavíkurdætur.
Also in this issue are interviews with London bass duo Kite Base, Cameroonian indie rocker Vagabon, Russian psych trio Gnoomes, and Marika Hackman, who is done with writing sad songs.
As Fortuna Pop! winds down this month after 20 years, Hayley Scott pays tribute to the label with the help of founder Sean Price, while Wire plough through their 40th year with a new album this month, leading to a conversation between Colin Newman and Daniel Dylan Wray.
The enigmatic Serpentwithfeet proves to be hilarious for our Getting To Know You questionnaire, and Ripley Johnson of Moon Duo and Wooden Shjips is this month's Sweet 16 feature, so you'll finally get to see him without his beard (he's a handsome devil under there).
Pick up a copy from Saturday from our stockists, or order a copy for deliver here.
Oh, and Party Wolf had a go at writing some fanfiction this month. It's pretty stupid.
Support Loud And Quiet from £3 per month and we'll post you our next 9 magazines
As all of us are constantly reminded, it's getting harder for independent publishers to stay in business, which applies to Loud And Quiet more now than ever, 14 years after we first started printing a magazine that we've always given away for free.
Having thought about the best way to support our running costs (the printing and distribution fees, the podcast and production costs etc.) we'd like to ask our readers who really enjoy what we do to subscribe to our next 9 issues over the next 12 months. The cheapest we can afford to do this for works out at £3 per month for UK subscribers, charged yearly.
If that seems like a bit of a punt, you can pay-as-you-go for £4 per month and cancel any time you like. European and world plans are available too, at the lowest rate we can afford.
It's not just a donation – you'll receive a physical copy of our magazine through your door and some extra perks detailed on our subscribe page. Digital subscriptions are available worldwide for £15 per year. We hope you consider this a good deal and the best way to keep Loud And Quiet in your life without its content, independence or existence suffering.