JPEGMAFIA is on the cover of Loud And Quiet 138 – available now
We went to Baltimore to meet Peggy as he launched All My Heroes are Cornballs
"At this point I feel like I've built my own universe," says Danny Brown in Loud And Quiet 138 (in stores now). "I can only work with people who can work in Danny Brown's universe." People like JPEGMAFIA, who features on Brown's latest album, uknowhatimsayin¿. While Brown has recently returned to a more direct kind of hip-hop, though, 'Peggy' is throwing the kitchen sink at his own, splurging all of his experimental noise influences across All My Heroes Are Cornballs – a keep-up-if-you-can collage of sound whose density should make its coherence impossible rather than unexpected, and its ability to carry messages of politics, gender and modern fame completely out of reach. Katie Beswick flew to Baltimore to meet a man becoming a cornball himself. Photography by Andrew Mangum.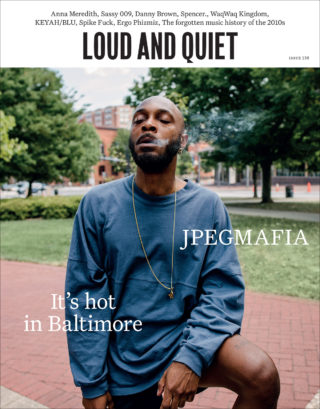 Hip-hop that's closer to home in this issue comes from KEYAH/BLU – London's most inventive new rapper, who didn't even consider music a passion until a couple of years ago.
Also in L&Q 138 are Japan electronic duo WaqWaq Kingdom, who are inventing Minyo footwork, new 4AD signing Spencer., Sassy 009, who reverted from a trio to the solo project of Sunniva Lingaard earlier this year, and Spike Fuck; the Australian artist searching for an identity beyond addiction and clickbait.
There's also an attempt to decode the latest album from collagist and radio artist Ergo Phizmiz. And suddenly realising that we're at the end of another decade, Clive La Bouche took it upon himself to revisit the 2010s, asking the all important question: how should history really remember the last 10 years in music?
Anna Meredith talks about surviving life as a band dork in 1994 by masquerading as a Dinosaur Jr fan, and there's our usually middle section of the month's album, live, book and film reviews.
Support Loud And Quiet from £3 per month and we'll post you our next 9 magazines
As all of us are constantly reminded, it's getting harder for independent publishers to stay in business, which applies to Loud And Quiet more now than ever, 14 years after we first started printing a magazine that we've always given away for free.
Having thought about the best way to support our running costs (the printing and distribution fees, the podcast and production costs etc.) we'd like to ask our readers who really enjoy what we do to subscribe to our next 9 issues over the next 12 months. The cheapest we can afford to do this for works out at £3 per month for UK subscribers, charged yearly.
If that seems like a bit of a punt, you can pay-as-you-go for £4 per month and cancel any time you like. European and world plans are available too, at the lowest rate we can afford.
It's not just a donation – you'll receive a physical copy of our magazine through your door and some extra perks detailed on our subscribe page. Digital subscriptions are available worldwide for £15 per year. We hope you consider this a good deal and the best way to keep Loud And Quiet in your life without its content, independence or existence suffering.