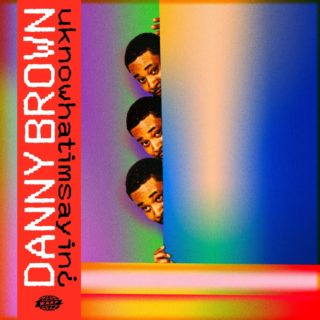 Danny Brown
uknowhatimsayin¿
(Warp)
7/10
Danny Brown is full of surprises. 2016's Atrocity Exhibition was a thick forest of a record, listeners needing machetes to lop through its thicket. Brown drew on production and instrumentation devices that are typically more at home in post-punk and industrial rock music, even down to its Joy Division-aping title. It was an expansion on ideas that had been percolating since 2011's XXX (2013's Old was a curious detour into more radio-friendly terrain). After a three year absence, one could reasonably have expected him to have spent the time hacking yet deeper into the musical wilderness.
Wonder, then, at the manicured garden that is uknowhatimsayin¿. At eleven tracks and a little over half an hour, it is his most instantly enjoyable record to date, without losing any of the holistic vision that makes all of his prior albums noteworthy. The reason this time around for the cohesion probably comes from Brown allowing a second auteur into the mix: the legendary Q-Tip is listed here as the "executive producer". His fingerprints are everywhere, from the three tracks that list him as primary producer outwards. uknowhatimsayin¿ is nimble, flexing between moods and registers smoothly, never losing its central trippy clarity.
Lead single 'Dirty Laundry' gave an early flavour with Brown at play recounting recreational acts far too lurid for these pages, whilst Tip's production acts as a gentle pacemaker. 'Best Life' and 'Combat' further display that the A Tribe Called Quest man's touch for a hazy, smoky arrangement is undiminished, the former making use of a string-laden old skool R&B sample, the latter resting on a single, looped brass line that will burrow its way into the rest of your day. They do more to recall hip-hop's past than predict its future, but they prove difficult to resist.
Similarly, 'Theme Song' is based around a string base that calls to mind Dr. Octagon's 'Blue Flowers', with sinister, barely-audible whispers adding to its creepy crawly menace. Ideas are here in number, but unlike before, they form an orderly queue; this is not the manic listening experience that intoxicated so many three years ago and consequently some will be disappointed with the straight-forwardness, even familiarity, on offer, but it is an easy pill to swallow. "They say chances gotta make a champion, know what I'm sayin?", is Brown's last line on the title track, a sentiment that might have had more currency before than it does here.
The record is sprinkled liberally with guest spots, ranging from the blockbuster to the breakout. The album's true galactic lift-off moment comes with the arrival of El-P and Killer Mike on '3 Tearz' who provide a simple mantra with a steamroll punch. It may not be their most substance-heavy contribution to music, but they leave a dent like none of their contemporaries. At the other end of the career spectrum, Brown smartly anchors two of the album's more circumspect tracks with vocals from London-via-Nigeria spoken word artist Obongjayar, whilst one of hip-hop's eminent current enfants terribles JPEGMAFIA lends both vocal and production duties.
All of which is not to say that all of Brown's oddity has been airbrushed away. On one of the album's standout tracks, 'Negro Spiritual', he snaps into his tauter, more urgent, high-pitch cadence. For an MC that struck an early reputation based on his ability to incorporate a multitude of vocal speeds and tones into individual tracks, uknowhatimsayin¿ is content to allow Brown to operate in a direct and measured flow for the most part. It makes this 'Negro Spiritual''s divergence from the mean all the more arresting, and the production of Flying Lotus propels the track through multiple further blood-pressure rising gears.
'Belly of the Beast' is another moment that allows a glimpse of the Atrocity-era Brown to shine through. The gasping, ambient vocal treatments that provide the backing, together with the incessant, oddly-paced drumpad rhythms, are unsettling and prod the listener into asking questions rather than sitting back and relaxing into the safety of the rest of the album's 90s-tinged psychedelic rap. It is no surprise to learn that the track is produced by Brown's long-time right-hand-man Paul White, the twin brain trust that has seen Brown spend much of the last decade at hip-hop's vanguard. In truth, uknowhatimsayin¿ does little to expand that reputation, but it does provide one of the year's most user-friendly and satisfying rap records.
Free Protomartyr flexi disc with this month's magazine
Subscribers to Loud And Quiet now receive a limited edition flexi disc of a rare track with their copy of the magazine
This month's disc is from Detroit punk band Protomartyr