Julia Jacklin is on the cover of Loud And Quiet 131 – out now
So Dungeness is cold
In November of last year, a couple of us drove Julia Jacklin to Dungeness for our first cover feature of 2019. Julia called it "beautifully bleak", which it is. She could have also said, "… and it's weird and cold and grey", but she's a nice person so she didn't say that, if indeed she was thinking it at all. I know I was.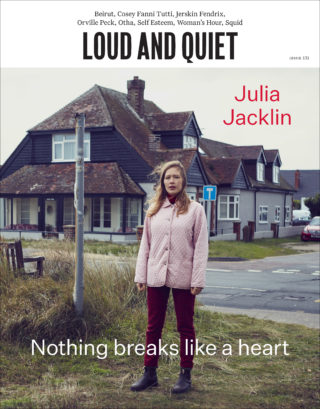 As I explain in issue 131 (out now), I just don't associate Julia and her music with the city, so we drove to the middle of nowhere to speak about her new album, 'Crushing'. It's brilliant and sad and very, very honest.
A month after that, a couple more of us drove through nowhere to Cosey Fanni Tutti's home in north Norfolk, where the artist, writer and Throbbing Gristle showed us around her converted school house, also for this issue.
Both are in the company of Cambridge graduate Jerskin Fendrix (who openly discusses privilege), masked outlaw Orville Peck (who talks about modern country music and secrecy), Norwegian house musician Otha, Brighton band Squid and Rebecca Taylor who, as Self Esteem, is happy to describe her new pop music as "feeling like meat."
There's also that rarest of things – a band openly laying out how they split up, and how it works being a hyped band that stops being a band altogether. In this instance, it's Woman's Hour.
Out Feb 2nd, including the month's albums and shows reviewed in full. A film here; a few books there. And Beirut recalling how it was to be 16.
Order a copy or subscribe here and we'll post it out Friday morning.
Subscribe to save Loud And Quiet
The COVID-19 crisis has really hit Loud And Quiet hard, cutting off our advertising revenue stream, which is how we've always funded what we do in order to keep the magazine free for our readers.
Now we must ask for your help to save us.
If you enjoy our articles, photography and podcasts, and if you can afford to, please consider subscribing to Loud And Quiet. With FREE delivery in the UK (international subscriptions also available), it works out to just £1 per week.
If we don't receive enough subscribers, we'll be closing down.
We'll post you our next 6 issues, a handmade lockdown fanzine, access to our digital editions, an L&Q brass pin, playlists, a bookmark and some other extras.