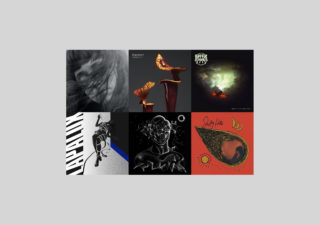 July was quiet for great new albums, but don't let these 6 pass you by
Call it a round-up, if you will
We've officially tipped over into the second half of 2017 now, technically closer to the new year than the old one. You'll be aware of that because everyone has recently shared their "best albums of the year so far" lists. We didn't do one of those because we prefer to save all that kind of fun until the end of the year.
While July's traditionally a quiet month for the release of new music, maybe a few of these will pop up come the end of 2017. Slim pickings compared to some other months, sure, but it's quality over quantity.
Artist: Katie Von Schleicher
Title: Shitty Hits
Label: Full Time Hobby
What is it? Katie Von Schleicher's full-length official debut tackles feelings of mediocrity and turns them into something grand instead.
L&Q says: "A sense of syrupy, melodic nostalgia permeates the whole of 'Shitty Hits'. Never fear, though; this album stays firmly on the right side of saccharine."
Read Liam Konemann's full review
Artist: Daphni
Title: FABRICLIVE 93 MIX
Label: Fabric
What is it? Not like a normal Fabric comp, Dan Snaith (Caribou) includes loads of new Daphni material.
L&Q says: "There are definitely smoother mixes in the Fabriclive's distinguished archive, but despite the odd rough misstep, few capture the freedom, impulse and palpable sense of fun as Daphni does here."
Read Reef Younis' full review
Artist: Sheer Mag
Title: Need To Feel Your Love
Label: Static Shock
What is it? After a run of EPs the Philadelphia retro-rock five-piece share their anthemic, scrappy debut album.
L&Q says: "Sheer Mag clearly knew what their thing was from day one: arena rock for the DIY punk set. This is venomous stuff."
Read Alex Wisgard's full review
Artist: Shabazz Palaces
Title: Quazarz: Born On A Gangster Star / Quazarz vs. The Jealous Machines
Label: Subpop
What is it? Following a burst of "creative energy" a sci-fi hip-hop two-album combo from Ishmael Butler and Tendai Maraire.
L&Q says: "They are extraordinarily original… and should be cherished."
Read David Zammitt's full review
Artist: Waxahatchee
Title: Out in the Storm
Label: Merge
What is it? The fourth album from Katie Crutchfield is an amp'd up, guitar-driven, honest affair.
L&Q says: "Rather than looking backwards, though, 'Out In The Storm' marks a definite musical and personal transformation."
Read Susan Darlington's full review
Artist: Lapalux
Title: Ruinism
Label: Brainfeeder
What is it? British producer Stuart Howard's third album started life as a score for a performance art piece staged in an East London cemetery.
L&Q says: "Perhaps the most beautiful and most complex Lapalux creation to date."
Read David Zammitt's full review
We're not being funny...
… but can you become a member please?
It's actually excellent value, and will help us continue to promote new independent artists and labels.
Sign up and you'll receive our physical magazines delivered to your door, our digital editions, exclusive podcasts and playlists and an actual bookmark, as if printing a magazine in 2021 wasn't old fashioned enough.
6-month and full year memberships are available now. Fancy it?