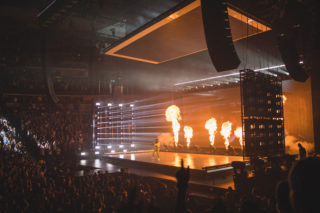 To absolutely no-one's surprise the Kendrick Lamar arena tour is totally fucking brilliant
It's got ninjas
Few artists arrive for the beginning of their first UK arena tour with as blank a slate as Kendrick Lamar has this month.
For one, he's truly earned the right to be here; he hasn't been elevated to this position purely on the back of the universal acclaim that his records have garnered since 'good kid, m.A.A.d city', a modern masterpiece of storytelling, handed him his breakthrough in 2012. Lamar has the commercial clout to back it up; it remains astonishing that 'Untitled Unmastered', an awkward compilation of demos and offcuts, went straight to the top of the U.S. charts upon release a couple of years ago.
Lamar's star has only continued to ascend since then, and he crosses the pond whilst very much riding the crest of a cultural wave, with the previous week's stirring opening to the Grammys providing further evidence of his uniquely incisive political outlook (as Dave Chappelle put it on the night, the only thing more frightening than a black man being honest in America is being an honest black man in America). Lamar's delves into societal themes have been uncommonly deep over the course of his career, so it might be a little bit disarming to witness him on much more playful form tonight; he takes the stage decked out in martial arts robes after one of a series of kung fu flick spoofs plays on the big screens. This isn't Kendrick but his alter-ego, Kung Fu Kenny, and he brings a lightness of touch to the opening salvo; 'DNA.' and 'ELEMENT.' are wildly energetic, whilst a katana-wielding dancer shares the stage with him for 'King Kunta'.
There's an awful lot of space for Lamar to fill on his own tonight, physically and sonically, because, potentially divisively, he arrives without any kind of backing band, and the stage looks massive with just him up on it. He covers every inch of it a hundred times over, racing around with boundless vigour and lending to the early suggestion that this is to be a hip hop party first and everything else second by dropping a couple of covers that he guested on, Rich the Kid's 'New Freezer' and Schoolboy Q's 'Collard Greens', before segueing seamlessly into old-school banger 'Swimming Pools (Drank)'.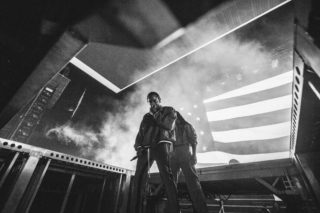 The evening's most profound moments stem not from Lamar's politics but, instead, his faith; it was a topic that quietly underscored last April's DAMN. and that especially comes to the fore not just on the obvious likes of 'FEEL.' and 'PRIDE.' but also on a rousing 'm.A.A.d city', which, placed in this context, views his upbringing through a different lens than on record. The show is, by arena standards, relatively low on spectacle; the onstage graphics grow vaguer and less conceptual as the ninety-minute set goes on, and Lamar makes it down to the second stage in the middle of the floor for just two songs (one of which, 'Money Trees', meets with the most fervent reception of the evening). What both that lack of frills and the decision to forego a full band means, though, is that Lamar's flow and technical ability are thrust front and centre, and he never misses a beat, despite his frantic stage presence alone representing a strenuous cardiac workout.
Lamar will headline festivals across Europe this summer and already has a huge stadium run lined up for the U.S.; the latter will be interesting to observe from afar, both for how much Lamar pushes the boat out in terms of fireworks (literally and figuratively) and in terms of the degree to which he leans back towards politics, which you suspect he felt shouldn't form the crux of his live show on this continent. Instead, he put the focus on delivering a manic hip hop celebration, and delivered, but as the audience faultlessly rap back both 'Bitch, Don't Kill My Vibe' and 'HUMBLE.' – two very different songs with very different messages – within 10 minutes of each other, you realise that Lamar's audience are happy to follow him down whichever lane he chooses. He has the world at his feet.
Kendrick Lamar, Manchester Arena, Saturday 10 February 2018