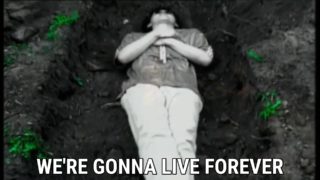 The key to a successful Oasis video is shooting it in black and white and sticking Liam halfway up a wall
What we know about how Oasis have tricked us with their music videos
Like the Falklands War, 1966 World Cup win and that time we saw up Keith Chegwin's arse on Channel 5, Oasis are seared into the English national identity, as inseparable as marmite from toast or Liam Gallagher from cocaine. While Blur and Pulp might have been the better bands, it is Oasis that the media prefer to lavish prosaic praise on, perpetuating the myth that they somehow stood for something, someone, somewhere. Even their truly awful albums receive recognition: BBC Radio 6 recently devoted a day to talking about how 'Be Here Now' isn't quite as shit as people think it is.
Why is this? I've got a few theories. First, Oasis are a direct derivation of past UK music products, which makes them easy to understand – their best tracks sound like a mash up of 'I Am The Walrus' and 'Pretty Vacant', only not so hot. Noel's lyrics particular are easy to grasp, since they borrow images and rhyming schemes from The Village With Three Corners series of kids' books. It's catchy stuff, no doubt.
Secondly, Oasis are unbeatable myth makers. There's an expression in journalism 'if it bleeds it leads' i.e. the most gory story will take the top of the front page. Well, in band terms, Oasis are the goriest of stories; from on stage fights, smug-as-fuck interviews and innumerable break ups, when it came to getting a journo's juices jumping there is/was no band better.
One of the most important parts of a band's myth making process is the music video. So let us now take a look back through the Oasis' archive and see what more we can learn about the band they call the busker's best friend.
Live Forever (1994)
I actually like 'Live Forever'. It's got all the ridiculous Noel rhymes, but with just enough meaning to feel epic. Plus, Liam's voice hasn't yet become a parody of itself.
As for the video, director Carlos Grasso had a tough job on his hands because although everyone in 1994 shit their pants over how exciting Oasis were when they first appeared, the truth is that they're a very boring band to look at. Normally a guitar is a potent, majestic thing, but the sight of Bonehead playing one brings to mind a grandma tentatively stroking an old cat. It's not quite as bad as watching paint dry, but not far off – maybe seeing the skin form on a rice pudding.
So, how to make them look exciting: stick Liam up on a chair nailed to the wall (a Freudian ego image if ever there was one). Sure, let's have some dogs walking backwards. And why not pour water over Bonehead while we're at it. Great – all done.
The most telling part of the video comes when the band buries drummer Tony McCarroll alive. As recent documentary Supersonic revealed, Noel was bullying McCarroll mercilessly at this point and about to kick him out of the band. Nice of him to symbolically bury him just to drive the message home.
Wonderwall (1995)
For regular readers of this column, you'll be pleased to hear that 'Wonderwall' heralds the return of Nigel Dick, cinematographer to the stars. We've previously enjoyed Dick's work with Nickelback, but here he is doing his bit for Oasis and their mega anthem.
Alright, so my main gripe with Oasis isn't so much that they are crap – they can be pretty good – but that they insist on dressing up pub rock up as high art. Oasis videos should show people playing air hockey in a shopping centre, kicking a football around or getting mortal on a Friday night, but instead we get a bunch of René Magritte shit – swinging saws, a big plastic cowboy, a fucking clown. You're Pukka Pies, not foie gras – don't forget it. Come to think of it, the Oasis logo looks rather a lot like the Pukka Pies one. Food for thought.
Some regular Oasis motifs return too, like the fact that it is shot in black and white but with one colour remaining in high contrast. Oh, and Liam is up a ladder – again.
I guess what I am trying to say here is that as the praise was piled on Oasis made the mistake of believing they were great – something Noel has since admitted to in a number of interviews. That's why this video, and almost everything Oasis did from 'What's The Story…' onwards, seems particularly stupid.
The Importance of Being Idle (2005)
Hey what's this, a good Oasis song? Where the hell did this come from? Well, it came from the Kinks – 'Sunny Afternoon' and 'Dead End Street' in particular. But only Oasis would have the gall to steal the music video as well; for those that haven't seen it, watch the Kinks' video for 'Dead End Street', where the band dress up as undertakers.
Anyway, with 'The importance of Being Idle' Oasis finally solve the problem of how boring they are on screen by having someone else appear in their place. Rhys Ifans gives a strong performance, and the outside shots look great (this being an Oasis video it is, of course, in black and white). It doesn't feel like it's trying too hard to be clever or 'arty'. It's a good video, maybe their best, even though it is a rip off. For a band who made their careers out of re-writing the ballads of The Beatles, it feels appropriate.
Conclusion
Like Christmas getting earlier every year, the legacy of Oasis is incredibly annoying but irreversible. So I suppose we should just get used to it, and hope people don't go on about the new Liam Gallagher album, or the fact that Noel Gallagher is a 'comedy genius', too often.
Loud And Quiet needs your help
The COVID-19 crisis has cut off our advertising revenue stream, which is how we've always funded how we promoted new independent artists.
Now we must ask for your help.
If you enjoy our articles, photography and podcasts, please consider becoming a subscribing member. It works out to just £1 per week, to receive our next 6 issues, our 15-year anniversary zine, access to our digital editions, the L&Q brass pin, exclusive playlists, the L&Q bookmark and loads of other extras.