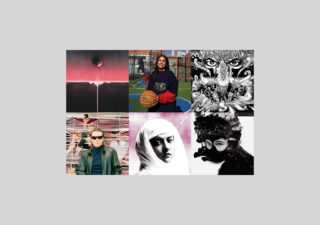 A LOT of new albums were released in September – but categorically these were the 12 best*
*That we heard...
While August was, as it always is, a bit on the barren side for decent new albums September has been quite the opposite. In fact a record 78654 albums were released in the past four weeks (not true), but the fact there has been a lot more decent music coming out means the list you're about to read has taken a lot longer to put together than normal. In fact, we'd be a bit irritated if it didn't sound good.
So, here you are, the indisputable best albums released in September 2017.
---
Artist: Mogwai
Title: Every Country's Sun
Label: Rock Action
What is it? You know Mogwai. But do you know the new Mogwai? A change in personnel has prompted an evolution in sound on their ninth album.
L&Q says: "It makes 'Every Country's Sun' feel quietly triumphant; the sound of a band renewed and a personality reasserted."
Read Sam Walton's full review
---
Artist: Zola Jesus
Title: Okovi
Label: Sacred Bones
What is it? (Not) the breakout album of the summer! 'Okovi' is Nicole Hummel's experience with death and loss over a year-long period.
L&Q says: "You feel as if you're attending an atheist mass as Hummel mines the depths of her darkest experiences, turning her sorrow into catharsis."
Read Katie Beswick's full review
---
Artist: Ariel Pink
Title: Dedicated To Bobby Jameson
Label: Mexican Summer
What is it? For his latest metamorphosis Ariel Pink has made an album heavily shaped by the story 'lost' '60s songwriter Bobby Jameson – thought dead, until he reappeared a few years ago.
L&Q says: "Ariel has kept the infectious energy of his bubblegum pop forefathers, splicing it with his own penchant for total weirdness."
Read Liam Konemann's full review
---
Artist: Wand
Title: Plum
Label: Drag City
What is it? The Los Angeles band released their first year records in little over a year – they took a bit more time on their fourth, and it shows.
L&Q says: "It may have had a long gestation by their standards, but in 'Plum' Wand have made their first true great."
Read Sam Walton's full review
---
Artist: Protomartyr
Title: Relatives In Descent
Label: Domino
What is it?
L&Q says:
Read Danny Canter's full review
---
Artist: Carmen Villain
Title: Infinite Avenue
Label: Smalltown Supersound
What is it? The Oslo-based musician's second album is beautiful, and also, at points, genuinely disturbing – features a collaboration with Jenny Hval.
L&Q says: ""I've got potential but there's demons in me," says Villain. The latter may be true, but she shows more than promise."
Read Susan Darlington's full review
---
Artist: Alex Cameron
Title: Forced Witness
Label: Secretly Canadian
What is it? The Australian sleaze-pop guy's second album is all about sex…sex, and being shat on by an eagle.
L&Q says: "He's a dive bar Springsteen… but Cameron is undeniable in craft, humour and sax solos."
Read Rachel Redfern's full review
---
Artist: Lower Slaughter
Title: What Big Eyes
Label: Box Records
What is it? Hundreds of miles separate Lower Slaughter – based both in Glasgow and Brighton – but the distance only makes them sound tighter and more aggressive.
L&Q says: "The four-piece's debut album is an almighty festival of sludgy, muscular guitars and screamo vocals."
Read Max Pilley's full review
---
Artist: Deerhoof
Title: Mountain Moves
Label: Joyful Noise
What is it? It'd be easy not to include Deerhoof here – they have after all made 14 albums the past two decades – but even by their standards this may be a career highlight.
L&Q says: "An unpredictable, winding exploration of the mainstream monoculture and innovative subculture symbiosis."
Read Rosie Ramsden full review
---
Artist: IGLOOGHOST
Title: Neo Wax Bloom
Label: Brainfeeder
What is it? Debut album from the 20-year-old London producer is a continuation of the sonic adventure of his first EP, and the story of a time-traveling worm.
L&Q says:
Read Stephan Butchard's full review
---
Artist: Open Mic Eagle
Title: Brick Body Kids Still Daydream
Label: Mello Music
What is it? A defiant sci-fi hip-hop elegy for the collapse of American social housing system. But also more fun than that sounds.
L&Q says: "One gets the impression that new worlds are now open for him to explore, other forgotten histories ready to be reanimated."
Read Dafydd Jenkins' full review
---
Artist: Princess Nokia
Title: 1992 Deluxe
Label: Rough Trade
What is it? The official debut album from Destiny Frasqueri – the charismatic New York rapper.
L&Q says: "This, along with Wiki's recent debut 'No Mountains In Manhattan', means NYC is once again the most exciting place in the world for hip-hop."
Please support Loud And Quiet if you can
If you're a fan of what we do, please consider subscribing to L&Q to help fund our support of new musicians and independent labels
You can make a big difference for a few pounds per month, and in return we'll send you our magazines, exclusive flexi discs, and other subscriber bonus bits and pieces
Try for a month and cancel anytime