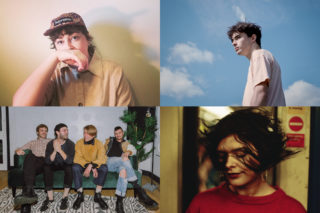 'People assume that if you're young, you're fine': meet the musicians who've been shielding since March
For many artists, some as young as teenagers, catching coronavirus is too much of a risk
Since the coronavirus pandemic hit the UK in March, much of the reaction within the music industry has focused upon the necessity to support the infrastructure – venues, publications, technicians – on which we all rely. Understandably so: this is the biggest economic and logistical challenge the arts have ever faced in peacetime. But as is often the case with public discourse on a fast-moving situation, the voices of those most marginalised and endangered by the current circumstances are frequently sidelined. At a very general level at least, we may think of musicians as mostly young and healthy, comparatively well-equipped to deal with the disease that's brought the world to a shuddering halt. Yet as many begin to experiment with socially-distant performances, or at least are able to mix with their similarly low-risk bandmates to write and record, there are some for whom such a return to pseudo-normality is simply not an option.
Charlie Hinchcliff, also known as singer-songwriter Dear Pariah, is one of those people. She suffers from sarcoidosis, a rare condition that leads to serious problems with one's immune system and causes numerous complications: in Hinchcliff's case, it has led to issues with her lungs, nervous system and more. This makes her "top-tier vulnerable" to COVID-19, as she describes it, so she has been shielding at her parents' house in Somerset since the beginning of the pandemic. She's had a rather different lockdown experience to her twenty- and thirty-something friends back in London.
"I started on a tablet chemo treatment," she tells me. "And I've only just got on the right dose now. It's trying to pull your immune system back enough for it to stop attacking itself, and allow your body to heal. It's pretty dangerous – you have to have blood tests every two weeks, any mild cold you're straight on antibiotics.
"For the first few months I couldn't sleep. My mum has stage four cancer too, so two out of three of the family are really vulnerable. When you're dealing with that level of threat, you can clash with the other people around you when you're trying to find boundaries. And when you're out, there's a real assumption that if you're young, you're fine – people just walk up to you."
For indie-pop artist Bessie Turner, establishing such boundaries and navigating everyday life has been similarly tricky the past few months. "I spent lockdown in a flat in Highbury – me and my boyfriend were shielding. He took it so seriously, quite insistent on me not going out, and if I did, it was sunglasses, scarf, hat, don't touch anything."
The pandemic hit in the middle of a particularly turbulent period for Turner's health. Having suffered from various urological conditions in her childhood and adolescence, at the beginning of 2019 she contracted a particularly dangerous case of sepsis, and was hospitalised.
"I was in intensive care, and very close to death. And it was all caused by kidney problems. I'm really prone to cystitis, a urine infection, and it travels up through my bladder to my kidneys. And I power through until I collapse and get very ill. My immunity and blood just aren't very strong." 
"You do get naturally used to things, and that helps," says Oliver Southgate, guitarist for Bristol punk band Heavy Lungs. "I've got ulcerative colitis, a form of bowel disease. It means being aware of your surroundings – you might need the toilet any time, that kind of thing. I've had it for nine years so I've coped with it for most of my musical career. You have to have a sense of humour about it. You're driving through France and you stop off and the toilet's just a hole in the ground, and you do that four times a day – it gets tiring, but it also gets funnier. Luckily everyone in the band has a childish sense of humour."
For everyone I spoke to, the initial lockdown was less of a problem than the confused loosening of restrictions that followed. "When we were in lockdown and you could go out once or twice a day, that was okay," says Southgate. "But my anxiety plays a big part in my illness and when you could go out and meet people more, all of a sudden I was worried – there's no public toilets open, no pubs open. All the time I was out I'd be chained to the idea that I had to be able to get home quickly. My anxiety triggered it so badly that I had to go back on medication that I've not had to be on for five or six years."
"Emotionally, in a lot of ways the people I know with health problems were almost better equipped than most, because our illnesses have already taken away a lot of normal structures for us," Hinchcliff tells me. "In the years before all this I'd suddenly have to stop working as I was too ill, and you learn to go with those changes. When your health isn't predictable, you know you can only take one day at a time anyway. Weirdly, under lockdown I didn't feel alone, as it felt for the first time that people could see what my life is like normally. I've missed out on so much because of my illness, and that was honestly a real time that people could understand that those things you wanna go to you just can't. The weird point was when the lockdown lifted, and there was a real sense of loneliness for me. People were starting to do things again, and I was reminded of how it is to be different, rather than being in the pack." 
Turner echoes this. "It was kind of nice to be ill when I knew everyone else was staying home too. That fear of missing out can be really hard."
It hasn't been all bad. Hinchcliff has used her time to start Bars of Hope, a handmade soap initiative whose profits all go to charity. Southgate says the time at home has been a blessing and a curse for Heavy Lungs – they had to cancel their extensive touring plans, but there have been benefits to staying in one place. 
"We've just managed to make stuff with a bit more intricacy and hone our craft a bit better," he says. "When you're touring and you have to fit in time to record, it's crazy. I think the music will be quite different. It makes you think life's too short, and we'll kind of sound more like we should've sounded at the start. And because we're just rehearsing, we don't have to think about the logistics of going anywhere. So music is quite nice at the moment because my illness doesn't really play a part in it – whereas when we tour, it really does."
Fast-rising 17-year-old songwriter Alfie Templeman also had a busy year ahead before the virus turned everything upside down. 
"We were gonna go all over the world, we were really excited," he says, audibly disappointed. "Luckily I've got a lot of songs I can get out. I make everything at home and do it all myself, so that's no worry for me, but touring-wise, that's a big chunk out of the year." He has a lung condition that precludes him from most social activities at the moment, and says he'd rather wait than risk mixing with people in a venue, however socially-distant. "I just can't do it with my lung condition. But that first gig back, I'll be so excited for it, and I'll be grateful for all the smaller things." 
"The first gig back" is, of course, a contested idea at the moment. Exactly how the music industry will look when this is all over – "over" being another ambiguous term at this point – is anyone's guess. 
"I don't know if anything will completely recover," says Turner. "There's a lot of healing to do. it's been fucking tough – a massive confidence crisis. It takes a lot to put yourself out there even in normal times, especially for DIY artists without that major label support. I'm really interested to see how festivals are going to work. I've worked in festival production for years, and all these people – the riggers, the lighting designers – I know so many people who've had to move back in with their parents. Dear Rishi, have you opened up any apprenticeships yet? But people need music – that emotion, that form of communication. It is going to come back."
"It's going to be weird, for all of us," says Hinchcliff, warily. "There'll be tension at gigs in the beginning, when we stop social distancing, because it's going to be so ingrained in us. You might think the first gig will be amazing – but I think actually it'll be more like the gigs a year after that will be truly amazing. Everyone's going to be so grateful."
We're not being funny...
… but can you become a member please?
It's actually excellent value, and will help us continue to promote new independent artists and labels.
Sign up and you'll receive our physical magazines delivered to your door, our digital editions, exclusive podcasts and playlists and an actual bookmark, as if printing a magazine in 2021 wasn't old fashioned enough.
6-month and full year memberships are available now. Fancy it?